Tupperware Brands Philippines Begins its Year-Long 50th Anniversary celebration with a grand, '60s themed launch party.
Since 1966, Tupperware Brands Philippines has been prominently featured in the lives of countless Filipinos. It is the iconic and indispensable product line created by its inventor Earl Tupper. It is the pioneer of the world-famous, relationship-based direct selling business model (aka the Tupperware Party) introduced by Brownie Wise. Clearly, there is no other brand out there identified so closely with quality and dependability in conservation and culinary products. And now in beauty and baby care as well.
In kicking off a year-long celebration of fifty important years in the local market, Tupperware Brands Philippines transported its top-selling salesforce from across the country back in time to the sensational sixties – the decade Tupperware Brands began its mission of transforming every Filipino's taste for the best quality in their choice of products. This was the launch event aptly titled Tupperware Brands Forever: The 50th Anniversary Opening Party.
A Tupperware Party Like no Other
Guests began gathering at the Marriott Hotel Manila Ballroom as early as five in the afternoon. Everyone turned up in their grooviest '60s attire – ladies in brightly-colored shift dresses (with themed headbands, of course), and gentlemen sporting sharp, three-piece suits ala Mad Men's Don Draper. To get the party started, guests were escorted to the ballroom where they tripped the light fantastic, swinging to a non-stop mix of The Beach Boys, Neil Sedaka, Dionne Warwick, and The Beatles, among other '60s golden hitmakers. They were welcomed to their tables in signature Tupperware style by dazzling gifts such as a Tupperware Brands pen and a Tupperware bowl filled with golden chocolate coins.
As is customary at a joyous Tupperware Party, the night began on a high note with a raffle draw of the latest Tupperware "treasures". While guests enjoyed the night's dinner selections, Tupperware Brands Category Manager for Tupperware Cristalle Laurel and Tupperware Brands Sales and Training Manager Maya Ingeniero went on stage to draw the lucky winners of Tupperware products. Ms. Laurel and Ms. Ingeniero then ignited the stage to name the Tupperware Brands Male and Female Stars of the Night and conferred the best dressed man and woman awards of the evening.
Standing Strong for 50 Years
The program unfolded with an energetic production number that featured the '60s most energetic dance moves. The evening's gracious hosts, Tupperware Brands Marketing Director Cris Nivera and Tupperware Brands Sales and Training Director Evelyn Tabaniag, strode on stage to thank everyone for coming to celebrate, and for being a valuable part of the ever-growing Tupperware Brands family throughout fifty-years of innovation and entrepreneurship in the Philippines.
"We at Tupperware Brands have always been here to respond to our customers' changing lifestyles and needs," Ms. Tabaniag said. "Fifty years after the first Tupperware Party in the Philippines, we have endured. We are still here, standing strong!"
"Now, we are kicking off fifty years by going back to the core of our existence as one Tupperware family," Ms. Nivera added. "Today, we reaffirm our commitment to bring products that last more than a lifetime, to strengthen our bonds as members of the Tupperware Brands family, and to keep changing lives forever!"
In a specially prepared video message, Tupperware Brands Chairman and CEO Rick Goings delivered the welcoming remarks of the night. Speaking from the Tupperware Corporate Headquarters in sunny Orlando, Florida, Mr. Goings congratulated Tupperware Brands Philippines for being part of the global family for fifty years and encouraged everyone in attendance to continue bringing that signature Tupperware passion and resilience well into the future.
"My friends, congratulations. "The future of the Tupperware Brands Philippines is built on fifty years of achievement. What is even more exciting is the future — the next fifty years" Mr. Goings exclaimed, as he concluded his message, which was met with raucous applause.
Dovetailing Mr. Goings' message, Tupperware Brands Asia Pacific Group President Asha Gupta took to the stage to share more words of encouragement for the remarkable people behind Tupperware Brands Philippines.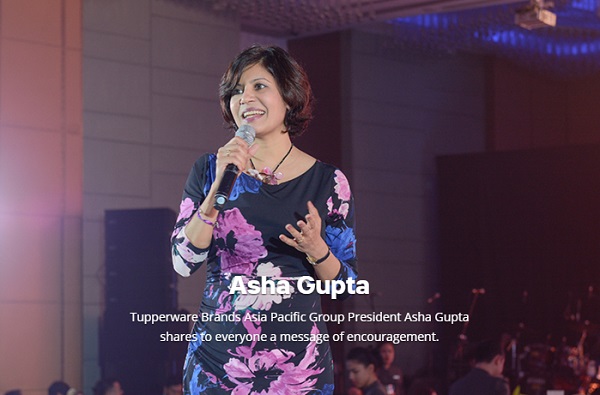 "Each one of you has built this business very solidly. And you have many, many dreams," Ms. Gupta said directly to the countless men and women in attendance. "Keep your dreams alive! Keep those fires burning because today, your dreams have to come true not just for yourself as each one of you is a powerful role model whom others will want to emulate."
"Be successful, share the opportunity, share the wonderful brands that we have," she said near the end of her impassioned speech. "And together, Tupperware Brands Philippines can indeed become the number one business in the whole wide Tupperware world."
That Signature Tupperware Innovation: Yesterday, Today, and Forever
A dazzling video presentation that captured five decades of signature Tupperware ingenuity set the tone for the event's second act. Tupperware Brands Philippines' marketing managers then ascended on stage to share the innovative products and services everyone shall expect from Tupperware Brands Philippines this landmark golden year.
First up was Tupperware Brands Philippines' Marketing Manager for Beauty Nikki Filio, who presented a glamorous assortment of Tupperware's latest product lines for skincare, cosmetics, and fragrance. Following Ms. Filio was Tupperware Brands Philippines' Brand Manager Rizelle Joven, who gave an update on Kids Plus+,  the company's child care product line.
When it was her turn to grace the stage, Tupperware Brands Philippines' Creative and Corporate Communications Group Manager Fifi Feliciano wowed the audience with Tupperware Brands Philippines' newest digital initiatives. Capping this portion was Tupperware Brands Philippines' Marketing Manager for Tupperware Melody Yap's highly-interactive presentation featuring the Speedy Chopper, one of Tupperware's ingenious kitchen products. The product showcases were cheered  and applauded by everyone in attendance. This indeed shows how Tupperware has never lost its shine from fifty years ago, remaining exciting and relevant today and even well into the future.
Going for Gold this 2016
Following that insightful show, another engaging video presentation featured heartwarming testimonial stories from different members of the Tupperware Brands Philippines family.  An intimate chronicle of how the visionary Tupperware relationship-based business model was revealed. It emphasized how the brand has undoubtedly changed Filipinos' lives continuously for the past fifty years.
The night's finale underscored Tupperware Brands Philippines' reaffirmed commitment to "Forever Changing Lives". Each attendee received the Tupperware Brands Infinity Bracelet as a personal and heartfelt charm. Anchored by a golden infinity sign, the bracelet symbolized Tupperware Brands Philippines' lasting unity with its nationwide salesforce.
With everyone wearing their Infinity Bracelets, Ms. Gupta and the rest of the Tupperware Brands Philippines leadership once again went on stage to lead in the rendition of the company's official 50th Anniversary "anthem": Go for Gold.
Then the popular Bloomfields band capped off the night as everyone danced to the beat of of their signature '60s covers. Everyone received a surprise "loot" bag filled with more Tupperware treats.
Exciting 2016 is destined to be Tupperware Brands Philippines' best year yet. This year commemorates the company's fifty-year legacy as one of the best direct selling organizations in the country.  It also marks a new chapter of changing Filipinos' lives through its ever-expanding product line, its relationship-based business model, and its ever innovative strides in a digitally empowered market.
So the gospel is out: Tupperware Brands Philippines will continue its storied legacy in style — in this growing Philippine economy.
Learn more about Tupperware Brands Philippines at http://www.tupperwarebrands.ph/.