Suffering from hyperreactive skin?
I am. For several years now, I've been suffering from unrelenting redness and scaly patches around the center of my face. It's a skin condition that appears together with dermatitis, and as I've grown tired of steroids to calm my flareups, as well as the occasional green concealer to hide the flushed face, I sought other options to help me manage my skin condition. Ergo, I've been on the lookout for solutions that are safer and maybe healthier.
The things I have found to be very important are the following:
Proper Diet & Exercise This is the poor man's solution to every health issue, and I am quite sure it's one of the most effective. Just drinking more than two liters of water, eating a good combination of protein and carbohydrates, and jogging daily can make a difference to the appearance of anyone's skin. (Right now I'm just too busy to include this in my daily schedule.)
Proper Skin Care Routine Sensitive skin, or at least those that tend to flush require a skin care routine that is gentle enough to minimize flareups. For instance I have found that, with my combination skin, I need to avoid very creamy and oily products. Whilst my skin needs cleansing twice a day, I use moisturizers for normal to combination skin instead.
Mineral Makeup Mineral powders are not exactly the most convenient products to use, but a jar from a local brand like Ellana has yet to run out since my first purchase last year. And of course mineral makeup contains inorganic and natural ingredients. If all else fails, I turn to Plan B, which involves green concealer for countering redness.
Hypoallergenic Skin Care Products  Cetaphil is a great, hypoallergenic face cleanser, but right now I'm loving Mukti Botanicals' mild and non-abrasive cleanser. I usually just blot my face dry with my microfiber bath towel. By a dermatologist's advice, we also need to protect our skin from sun damage–so I have chosen to use sunscreen with an SPF of 15 or higher as much as I can.
Since diet and exercise is currently a no-go, I choose beauty products to help me with my skin condition. When it comes to hypoallergenic skin care, I have found that VMV Hypoallergenics is a reliable Filipino brand. And a care package they recently launched is just as reliable for putting skin flareups in check.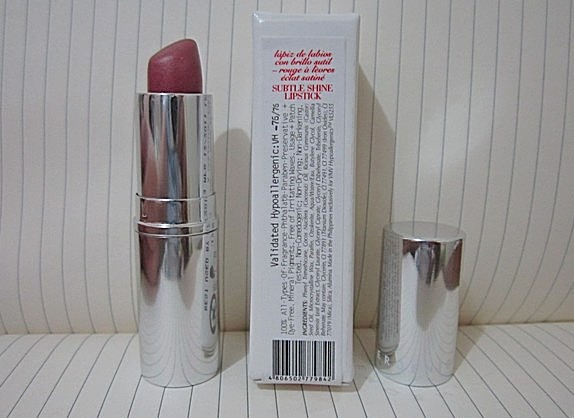 Filipino brand VMV Hypoallergenics first caught my attention when I got hold of a tube of Subtle Shine Lipstick last year. Curious whether or not VMV products are worth the high price tag, I went ahead and ordered their care package for rosacea (and any skin needing T.L.C.) last month. Personally I think the fact that the lady behind VMV (Vermén M. Verallo-Rowell, M.D.) is a board-certified clinical and research dermatologist, dermatologic surgeon, dermatopathologist, and clinical researcher makes the brand absolutely reliable.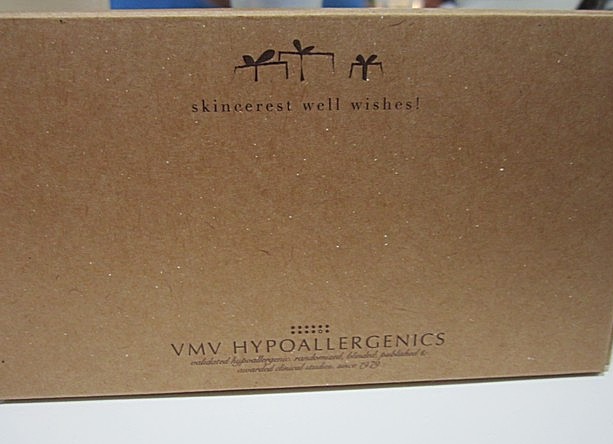 Love the recycled packaging!
VMV Hypoallergenics' Care Package for Rosacea (Php 2,200) includes three full size products.
Of course, as I have yet to see a dermatologist to check my face for a possibility of rosacea, I picked this care package to try because it is reportedly ideal for irritations, inflammations, redness, bites, itching, rashes + microbial infections from allergic/irritant reactions; seborrheic dermatitis, rosacea, eczema, atopic/contact dermatitis + some other medically-managed conditions. Since I have been diagnosed with seborrheic dermatitis two years ago, I have relied on a combination of hydrocortisone and three different anti-dandruff shampoos to control my skin condition. Through the years I have found that the condition worsens depending on hormones and stress, some anti-dandruff shampoos only work well in a few months, and certain creams cause unwanted flareups.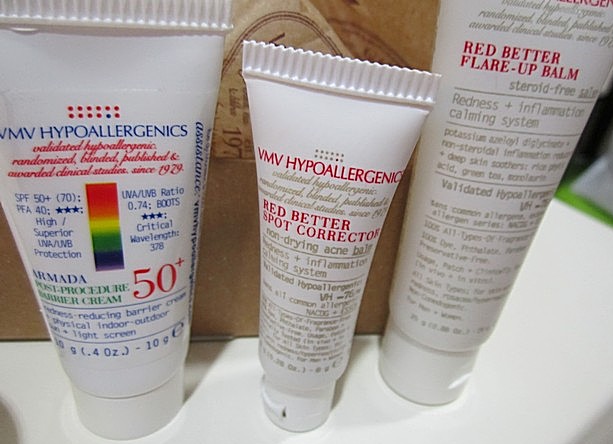 Let's try the stuff in the tubes first.
1. RED BETTER FLARE UP BALM | 25g
This full-size bottle is that star of VMV's Red Better Redness + Inflammation Calming system. It's a steroid-free salve that contains monolaurin and several anti-inflammatories to deeply hydrate and soothe skin without using steroids. First of all, I like that this is a full-size tube that normally retails for almost Php1,900. A tiny speck of this creamy salve can cover a considerable area on the skin.
 Just five minutes after very first application, redness on my face (especially around my nose) subsides by around 60%.
2. RED BETTER SPOT CORRECTOR | 8g
This non-drying and soothing balm contains salicylic acid to beat acne on sensitive skin.
Normally the 8g tube can set you back Php400. A little bit can go a long way, as well, as shown in the photos below. It goes on clear, remains moisturizing for almost an hour (though it does dry after) and promises to help remove blemishes overnight. I say promises because I have yet to try it on a pimple. The spot corrector does smell of salicylic acid, though, so I think it has the ability to get the job done.
3. ARMADA POST-PROCEDURE BARRIER CREAM 50+ | 10g
This green-tinted physical sunscreen is formulated to suit ultra-sensitive or recovering skin. Fragrance-free and non-comedogenic, it protects the skin indoors and outdoors as it reduces skin redness. This is a sample tube, and 10 grams of this amazing product do not last more than a month for me. Right now my tube is almost empty from the frequent use. When my face looks a bit better I use Ocean Potion's Face Potion instead.
Two cons: The product is very thick so it can be difficult to spread on skin. It also makes skin look abnormally white, so it's really great to use on Halloween costume parties.
Despite the two setbacks, the barrier cream delivers, and it's very capable of protecting skin from indoor and outdoor sun exposure.
The full-size tube currently retails for Php1,300 on Zalora.

4. GRANDMA MINNIE'S THE BIG, BRAVE BOO-BOO BALM | 15g
MY FAVORITE! The ultimate jar for skin lesions. Whilst the previous products contain jsut enough monolaurin to kill bacteria, this boo-boo balm has the coconut-derived product in spades! Monolaurin is in fact an antibacterial, anti-fungal, antiviral and antiprotozoal disinfectant that is gentle on skin, making it easy for this balm to quickly treat infections that can occur in damaged skin. If you are currently managing a skin condition like eczema, dermatitis or psoriasis, you should grab yourself a jar.
For me this balm is the most effective product to use if you want your severe flare ups to be gone the next day! A jar costs only Php1,080.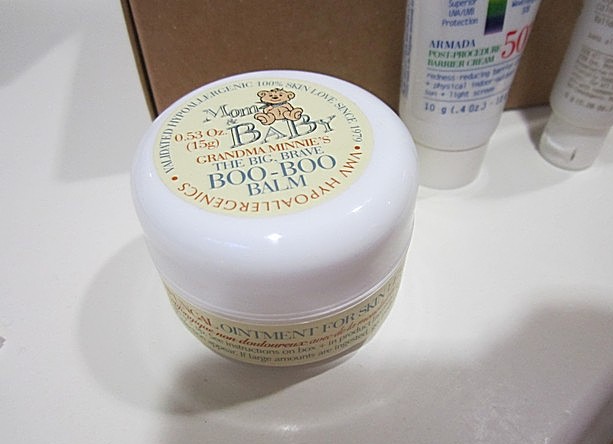 Smells mildly of coconuts, which I love!
Overall, the care package I bought from VMV Hypoallergenics have given me great results. I have used them to alleviate redness and lesions on my face and chest, and I am very happy with all the products. My next challenge in the coming months is to modify my diet and sleeping habits to reduce the likelihood of another flareup coming within the month.
What's your skin care protocol during flareups? Kindly share your opinion in the comments!