There's more to make-up than vanity. I've heard Maybelline New York's battle cry for 2016, and after experiencing the company's vision first hand, I was ready.
 Here I am trying out the new liquid powder shades.
For years Maybelline has been producing quality cosmetics that address women concerns. Now, with technology at its best, Maybelline redefines women empowerment with a new anthem that captures women's inherent confidence and strength despite the fast-paced lifestyle: Make It Happen.
"There has always been a misconception that make-up is a way to conceal imperfections and insecurities, or that it is the opposite of self-contentment. But we, at Maybelline New York, along with the millions of girls around the world who choose the brand as an ally, choose to see differently. We believe that women intrinsically possess the beauty, and the power to make a difference. And the purpose of make-up is not to conceal but to reveal that confidence in every girl and woman around the world," explains Cary Noreen Co, Marketing Manager of Maybelline New York – Philippines.
Maybelline New York is ready to become the every lady's partner in achieving dreams. She adds, "More than anyone, we at Maybelline New York understand the power of Filipinas and how women are more and more becoming the icons and influencers in the country today. We change, we inspire, and we move the country in our own ways."
So, here we go!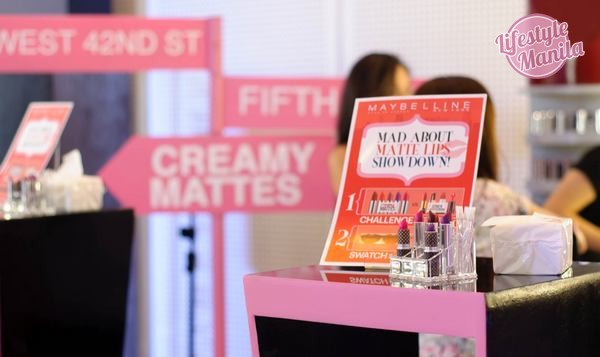 New Maybelline lippies and their luxury counterparts on display.
 Here's a showcase of ffordable go-to mascaras from Maybelline.
This 2016, Maybelline proudly introduces three matte makeup products that are designed to enhance the beauty every Filipina already possesses (focusing on the Eyes, Lips and Face!)
One of the latest Maybelline products, the HyperMatte Dip Liquid Liner (Php199).
First, the Eyes. The HyperMatte Dip Liquid Liner is an easy-to-use liquid liner that dries quickly with a matte finish. This product promises no more sheen on lined eyes, and instantly delivers! And I have to say, after trying it out, the product does dry out (in about ten seconds) to an ultra-black, matte finish!  The awesome news is that this Hyper Matte Liquid Liner is now available for P199. (HOT TIP: Use it with the HyperCurl Mascara, which now only costs P199.)
 Creamy Matte Lipsticks in beautiful shades: (from left) Vibrant Violet, Touch of Spice and Divine Wine (Php299 each).
Next up are the Lips. Maybelline's latest sensation, the Creamy Matte lipsticks contain nourishing honey nectar to produce the holy trinity of perfect makeup: Color, Coverage and Care. This new line has ten matte shades that boast highly pigmented color and a (forreal) smooth, creamy texture! Take your pick: Faint for Fuchsia, Siren in Scarlet, All Fired Up, Craving Coral, Divine Wine, Mesmerizing Magenta, Ravishing Rose, Rich in Ruby, Touch of Spice and Vibrant Violet. In terms of perfromance and color pay-off these lippies can outmatch luxury brands that offer identical shades. After a quick trial, I'm happy to say that these lippies stayed put for several hours, and did not dry out my lips.
Personally, the Vibrant Violet for me is a funky pop of purple with warm undertones. My fave, Touch of Spice is a medium-dark rosy plum with subtle, warmer undertones. Divine Wine, meanwhile, can be best described as deep burgundy with warm, reddish-brown undertones.  All these shades are suitable for Filipina skin!
White Super Fresh Liquid Powder–the no touch-up foundation with SPF 50 PA++++ (Php399).
And finally, for the face. The White Super Fresh Liquid Powder has the consistency of liquid sunscreen and yet it dries like a no touch-up foundation with a matte, powdery finish. It's pretty astonishing, actually. And just like sunscreen, it provides SPF 50 PA++++ sun protection. After trying a few shades, my best match turned out to be Honey. The others seemed to dry with a white cast on my face, and Honey is darker with warm undertone. Overall, this liquid foundation is an excellent option for those who prefer light makeup with excellent sun protection.
VERDICT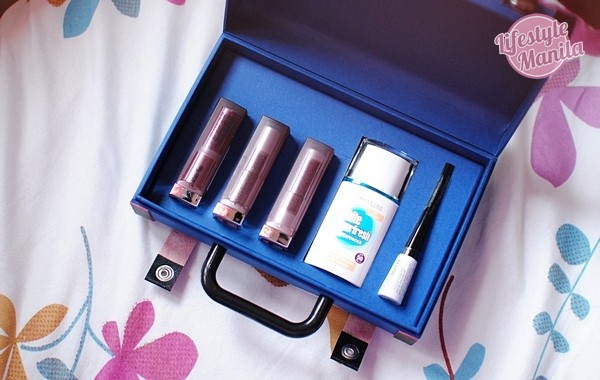 Here's my new beauty arsenal!
Awesome, awesome, awesome! Highly recommended! I've always loved matte lippies, and I'm thrilled that finally there are affordable cosmetics within reach. For less than Php1000, I can already have three makeup products that can make my face match my mood and personality.
Can't wait to join the movement of empowered women who celebrate inner confidence and beauty everyday with Maybelline. It's just high time to #MakeItHappen. The new matte products are now available at all Maybelline counters nationwide.