Be SMART, DIFFERENT and FUN!
After the successful launch of the 1st flagship store of Too Cool for School (TCFS-Philippines) at SM Mall of Asia back in April 19, 2013, comes the grand opening celebration of the 2nd store at SM North Edsa on July 19!
Established by one of the major cosmetic distributors in Korea, Todacosa Co., Ltd., Too Cool for School Co., Ltd., traces its roots to Myeongdong Clothing, an embodiment of Korea's street fashion, which has been leadsing Korea's fashion and beauty trend for over 30 years. As a beauty and lifestyle brand conveying the needs of the new generation, TCFS is a title meaning "the coolest among the group, being differentiated and unique."
Inside the TCFS Store!
And so TCFS embodies the fun spirit of the 21st century generation represented in the characteristic design of the "Girl Story" of a famous British artist, currently working as an illustrator in London and an architecture designer in NY. With his renowned and award-winning Dinoplatz design of TCFS, customers get fun and hip makeup in a very unique packaging.
Meet TCFS' three iconic Girls & cat: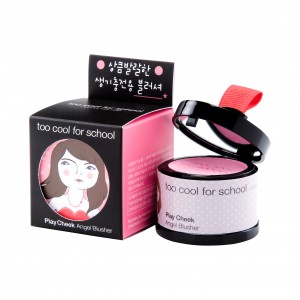 Sienna (in Play Cheek Angel Blusher)
A lovely girl with great interest in people and world. Incidents and accidents never
cease around her, for whom time alone is important, as she loves shopping and
party. Are you not ready to learn more about the magnificent story of a dream
filled girl?

Joey (in TCFS Makeup Bag)
Boyish style with a passion for music and travel. A smart lady who dreams of
becoming a photo artist, capturing the freedom that comes from traveling. Be
acquainted with her careless but classy, stylish attraction!

Emma (in After School BB Lunchbox)
An artist who is pure and free like a little girl. She dreams of becoming a writer
telling people about happiness. With her Bohemian style she is always absorbed
with books and movies but she is filled with playfulness and is loved by all.
Max (in Pocket Perfume Max)
A cat with many secrets living with Sienna. He is always worried
about Sienna who is full of curiosity but he is gradually becoming like her.
What is the secret dream of Max who is cute but curiously attentive?
Here's a fun fact: The brand carries 238 different varieties of products– 65 items for skincare, 134 items for make-up and 39 items for accessories. Bestsellers include Milk Tint- beautiful, moisture rich lip gloss that adds a hint of tint and Kiss Time Ice Beam Glass- Lip gloss that provides vivid color and BEAMS with moisture to plump up your lips!
Currently the international brand has 30 shops running in South Korea, and are now exporting to Hongkong, Taiwan, Japan, Thailand, Indonesia, Malaysia and the Philippines.
PHILIPPINE STORE LOCATIONS:
SM MOA BRANCH Level 2, Entertainment Mall, near the south parking.
SM NORTH EDSA Level 2, City Center Mall, across Chowking & Mann Hann restaurant.
Stores are open from 10 AM to 10 PM.