Did you know? It's been 50 years since the local brand Caronia first released its wonderful assortment of vibrant nail polish! Yes, the brand that's already a household name was first introduced to the Philippine market in 1968.
In celebration of Caronia's golden anniversary, the brand is introducing five curated sets of its bestsellers: Psychedelic 70s, Vibrant 80s, Iconic 90s, Modern 00s, and Dynamic 10s. The possible nail art combinations and designs are endless, thanks to these Caronia colors! Best of all, Caronia nail polish formulations are toluene-free.
For promos (#ShowMeTheMani) and updates, follow Caronia on Facebook, Instagram and Twitter
PSYCHEDELIC 70s BOX: Brick Red, Fantasy Red, Glissade, On-The-Go, Pussy Red, Simply Red, Tahiti Brown, Taupe, Tea Rose, and Touch of Beige

VIBRANT 80s BOX: Bourree, Lemon Cool, Natural, Orange Pop, Platinum Special, Red Pearl, Sweet Surprise,Tangerine, Tryst, and White Rose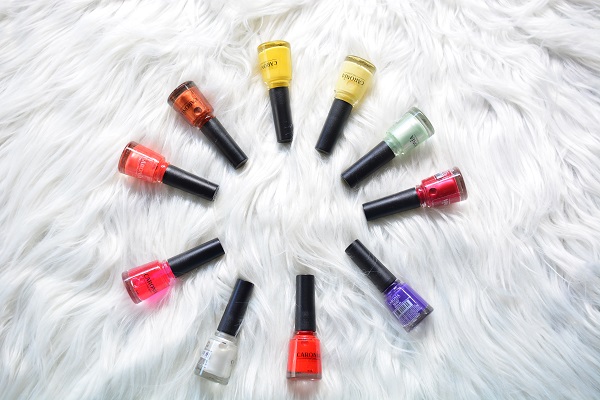 ICONIC 90s BOX: Avant, Blueberry, Blue Chill, Blue Velvet, Bohemian Blue, Chasse, Emerald Shine, GypsyGreen, Sapphire Glow, and White Satin

MODERN 2000s BOX: Baby Pink, Carolina Peach, Chestnut, Colorless, Italian Nude, Kismet, Pink Lilac, Pink Lily, Platinum Glitter, and Silver Platinum

DYNAMIC 2010s BOX: African Plum, Black Velvet, Cashmere, Golden Bronze, Pique, Rainbow Tan, Touch of Tan, 14K Gold, 18K Gold, and 24K Gold

My personal faves are Touch of Tan, Cashmere, Pink Lilac, Taupe and Tea Rose. What's yours?
Share your nail polish favorites using #Caronia50Years #KeepThingsColorful on social media!