In celebration of 70 years of bilateral relations between the Philippines and Australia, the Australian Embassy, along with SM Supermalls, hosted the Celebrate Australia 2016: Say G'day at SM roadshow exhibition.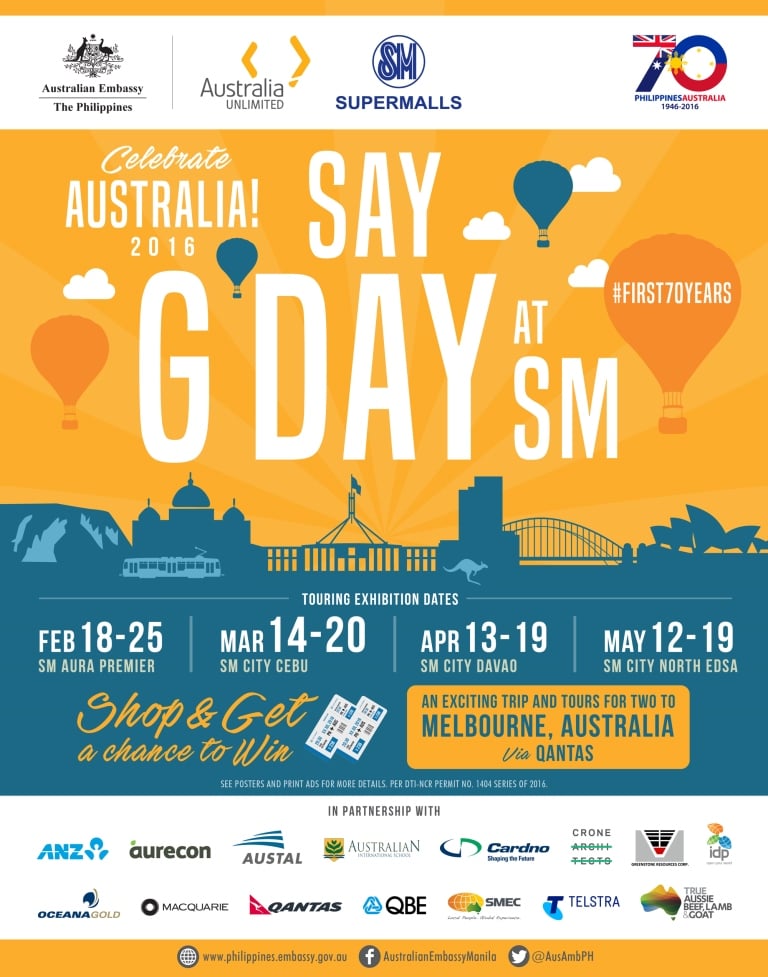 Launched in February 2016, the event featured a historical photo exhibition showcasing the depth and breadth of ties between the two countries. The roadshow will finally have its last stop at SM The Block from May 12-19, 2016. SM mall goers and shoppers can join the raffle and get a chance to win round trip tickets and tours for two in Melbourne.
On May 22, 2016, Australia will mark the opening of its first Consulate-General in Manila in 1946, with a ceremonial lighting of its 70th Anniversary logo in SM Mall of Asia.
Share the friendship; share the journey. #First70Years
Here are a few fun facts about the land down under:
Flat White Coffee is an Australian invention composed of a double shot of espresso and micro-farmed milk. It has a characteristically creamy and velvety texture. #flatwhite
Bundaberg drinks are craft brewed premium soft drinks enjoyed by generations of Australians. #BrewedtobeBetter
Aussies eat 2.70 million meat pies per year. Aussie meat pies are awesome because of the best Australian infredients that go into each one. Kudos to #PieFacePH
July 21 is National Lamington Day in Australia. The lamington is an Australian culinary icon made of soft sponge cake covered with chocolate and liberally sprinkled with fine dessicated coconut.
Aussies eat 45 million packets of TimTam a year! TimTam is a chocolate cream and malt biscuit sandwich covered with creamy chocolate.