UP Town Center has become the go-to haven for the collegiate crowd, and it's been teeming with A LOT of restaurants as of late. For some truly Filipino comfort food in the expansive restaurant mecca that is the UP Town Center, Lifestyle Manila suggests you head over to Pinac!
Pinac boasts delicious Capampangan dishes from treasured recipes passed down through generations. It's also worth noting that while the restaurant has preserved the cultural heritage of Capampangan cuisine, it has also made some interesting improvements on familiar classics, like sisig and puto bumbong.
Sure, Pinac's interior gives off a comfy, heritage home feel, with the old-timey details on the furniture setting the mood for an afternoon siesta in your grandparents' home in the province. Even the color palette composed of whites, greys and browns gives off a relaxed, vintage feel.
Crispy Chicken Skin is so sinfully fattening yet addicting! Ala carte Php325)
I was lucky enough to try the dinner buffet promo one night, and enjoyed some of Pinac's bestselling Capampangan classics. The Pinac Crispy Pata stood out with its delicious sauce, and the Overloaded Pinoy Paella had the seafood flavor that can make anyone crave for more. Of course, Beef Kare Kare will always be a true Filipino's favorite, and Pinac's version hits the right spot for me. The peanut sauce is neither too bland nor too salty, and the bagoong tastes so good and has the sweet-salty taste that complements the Kare Kare beautifully. The beef is tender, too!
The dinner buffet also serves up Suam na Mais, a delectable corn soup; Crispy (non-greasy) Chicken Skin that tastes great with the tart, spicy sauce; tender Callos and Chicken Pastel. All this for only Php359!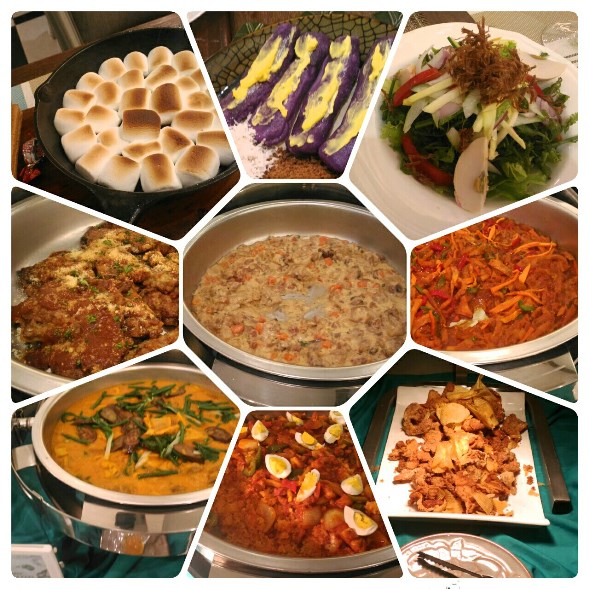 Center: Chicken Pastel (Ala Carte Php295), Clockwise from top right: Flat top smores (Php255), Puto Bumbong, Ensaladang Pako with Fried Duckling Floss (Php165), Callos, Fried Chicken Skin, Overloaded Pinoy Paella (Php645), Beef Kare Kare (Php395 for sharing), Eggplant Parmigiano (Php295)
Another hit: Cucumber Mint Dalandan Shake
Dinner Buffet is available Monday-Friday, 6-9pm.
Lunch buffet is also available from 11 a.m. to 2 p.m. For Php259, guests can enjoy Pinac favorites such as Cripsy Chicken Skin with Potato Crisps, Chicken Parmigiana and Mashed Potatoes, Sinigang na Salmon Belly, Beef Kare Kare, Lumpiang Ubod Taquitos and Happy Sisig Rice for lunch!
Two thumbs up!
Location: U.P Town Center, Katipunan Ave, Quezon City, 1108 Metro Manila
For more details, visit https://www.facebook.com/pinaccuisine/.