Nothing says hearty and filling like big servings of delicious western food. In Manila, finding the right food that's affordable, filling and satsfying all at the same time may not be easy to come by. But there are, at least, little gems of restaurants littered around the metro that will surprise you. (Or that's what I think.)
At Mad Mark's Creamery & Good Eats in Glorietta 5, Filipinos can have their fill of some good Southern-style barbecue ribs and satisfy their renowned sweet tooth with a scoop or two of scratch ice cream made from fresh ingredients sourced from around the world.
Vanilla beans from Madagascar, coffee beans from Sumatra, and chocolate from Java. Yumm.
Nice deal. An order of grilled food automatically gets you 2 side dishes.
Barbecue ribs have been a staple at weekend gatherings in the South (as in southern part of the USA–no wonder there's an area in the US called the "barbecue belt"). For Php395, you can enjoy Mad Mark's St. Louis Prime Grilled Ribs, a decent portion of slow-cooked pork rib served with an original BBQ sauce recipe called Johnnie Double Black, and two side dishes of your choice.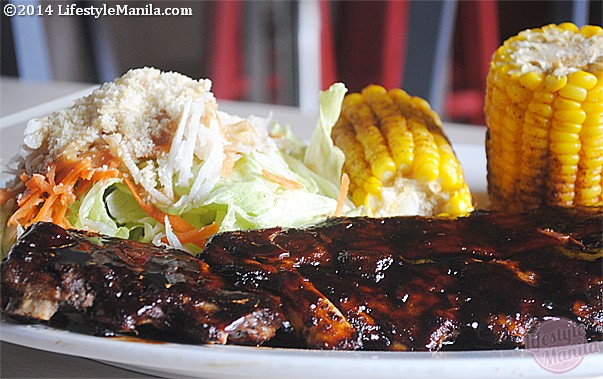 Care to try some sweet, smoky, melt-in-your-mouth ribs and spicy corn-on-the-cob?
Mad Mark's Kapitolyo patrons might want to travel a bit to try this delicious dessert in Makati for the warmer, summer months. The Rolling Dutchman (Php150) boasts of one generous scoop of Madagascar vanilla bean ice cream sandwiched between two Dutch pancakes and your choice of cookie butter or choco-hazelnut spread. The pancakes (which are like sweeter English muffins) are crispy on the outside and soft and chewy on the inside! I can go on and on about how addicting the pancakes are, but seriously, you will just have to try the Rolling Dutchman to know how good it is.
The Rolling Dutchman Ice Cream Sandwiches (Nutella filling on the left, Biscoff on the right)
Here are some of the best dishes from Mad Mark's Creamery & Good Eats (available at Kapitolyo and G5 branches):
1. Steak & Cream (Php285) Signature Steak with Garden Grains and House Salad (comes with Cream Mushroom Sauce)
Price of the signature steak normally depends on the weight (150g for Php225, 200g for Php285 and 300g for Php395), and a single order allows you to choose two side dishes (which, in this case, included a hefty serving of rice with green bell peppers and carrots, and lettuce and shredded carrots with a dollop of balsamic vinaigrette and grated parmesan cheese.)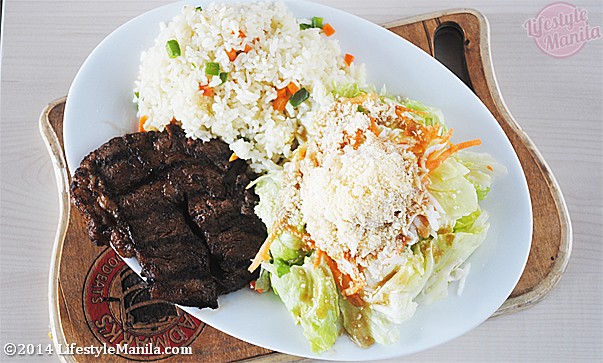 Some of the grilling sauces offered. From left to right: Roasted Nut, Cream Mushroom Sauce and Bootstrap Steak Sauce.
2. Fan Favorite (Php285) Signature Steak with Garden Grains and Baked Potato Salad
The signature steak is made of USDA Angus Striploin, and it's usually served medium done supposedly so you can fully appreciate the steak. Of course, since you'll be paying for your meal, you're free to ask for medium rare or even medium well. The bacon potato salad is not your average potato salad, though, since it comes with real bacon bits and a somewhat peculiar taste I can't put my finger on.
3. Creole Grilled Chicken (Php195) with Tenn-Slaw and Grilled Corn Cob
Corn comes sprinkled with cayenne pepper for some kick, and although normally the corn is served on a cob, customers can request for some already shredded. Shredded cabbages and carrots are covered with a blend of secret ingredients (mustard, apple cider vinegar and pepper, perhaps?) to make the Tenn-Slaw. It's not your average coleslaw, for sure.
I also like that the mushroom sauce is made of fresh mushrooms and cream.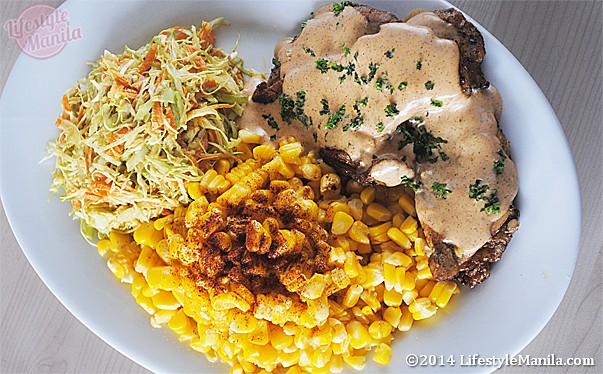 Creole Grilled Chicken topped with Cream Mushroom Sauce and served with Tenn-Slaw and Corn.
Surely a filling meal is never complete without some dessert! Mad Mark's Creamery & Good Eats is nothing without its selection of honest ice cream: Delicious dairy made of real, fresh ingredients. For instance my favorite, Banoreo, shines with a distinct banana flavor punctuated lightly with cinnamon and oreo. The flavors are not too overpowering and my taste buds can tell without a shadow of a doubt that the ice cream flavors were not concocted in a lab!
Banoreo.
So indulging in huge portions of ice cream after a generous meal is still easy. Your tummy might already be saying, "No more, for the love of all good and holy, please," but your mouth is watering and going Oliver Twist-like with "Please sir, may I have some more?"
Bestselling ice cream Half-baked Madagascar is made from half-baked cookie dough and Madagascar vanilla ice cream. Sumatra Strong Brew, meanwhile, features a strong coffee flavor, and it's only because it's made from freshly roasted Sumatra coffee beans that were steeped in fresh cream.
And Javan Hot Chocolate isn't hot to the touch, but it sure is a hot seller! Cocoa beans from Indonesia mixed with fresh cream either sourced locally or from abroad makes a rich, creamy concoction that chocolate-lovers will adore! Then there's Strawberry and Cream, which is made of fresh, carefully-chosen strawberries that offer the right amount of sweetness (and water content).
Half-baked Madagascar on the left, Sumatra Strong Brew in front, Javan Hot Chocolate on the right and Strawberry and Cream at the back.
 A scoop costs Php85, a double scoop Php150. Just shut up and take my money.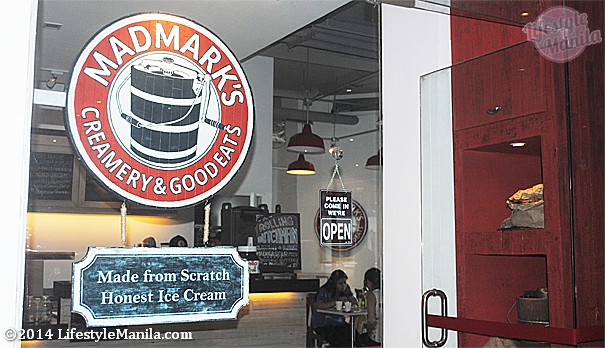 Mad Mark's Facebook Page
Address: 2/F Gloretta 5, Makati | 23 East Capitol Drive, Brgy. Kapitolyo, Pasig City
Price: Php250 – 400 per person
Rating: 4.5 out of 5 stars (Although some of the dishes did not sit well on my taste buds, I absolutely loved the generous servings. SULIT and Delicious earns more than 4 stars in my book.)