Found a potentially great hangout spot in UP Town Center–yes, that mall complex along Katipunan has a nice spot perfect for meetings, study sessions and whatnot. Sure, a coffee place has been pretty standard fare for most people in the Metro, but this is Katipunan we're talking about, so hear me out!
The Chimara Feel Good Kitchen just opened in June. This place is located in front of Reyes Barbecue, and since it's several steps away from Jollibee and a handful of other restaurants, there's a good chance people will miss it. (It's their loss, anyway!) And that in itself makes it a great spot for those who enjoy peace and quiet..and good food and company!
A Pop of Green. Just check out how easy it is on the eyes!
The Chimara Feel Good Kitchen offers truly feel-good food–in fact, they even provide food suggestions to address your health concerns! Got tired-looking skin? They will offer food options rich in skin-loving vitamins C and E! Need to jumpstart your brain cells for hell week? There are memory-boosting selections on the menu!
Can't decide? Meal suggestions are featured on standees like this one pictured above.
It's pretty cool that Chimara offers a lot of meal choices. You can have a wrap, salad, panini or pasta. You can even have delicious and filling brown rice if you wish. You can try all the possible combinations to find out what really makes you feel good on days that you need a pick-me-up (yes, you don't have to splurge on a new gadget or make-up, you can also just eat your feelings!)
Since I couldn't bring my SO with me, I invited my mom, brother and sister-in-law to try a few Chimara dishes themselves. These guys are cooks, so I was eager to know what they would think about their orders! Mind you, my mom and brother has always found my cooking bland.
My brother tried a serving of Tofu Cheese Pesto Pasta (Php180) and Faux Beef Salpicao on Rice (Php180), which I will talk about later. He chose the pasta since, as the menu suggested, it was a "protein-loaded take on the herby favorite" and it had a "quezo bianco-topped tofu for that much needed protein boost." He had been watching his weight and working out lately too, so he needed the protein. Surprisingly the tofu and cheese topping blends well together with the nice and aromatic pesto flavor. It passed my brother's stringent standard on tasty food, so it must indeed be a must-try!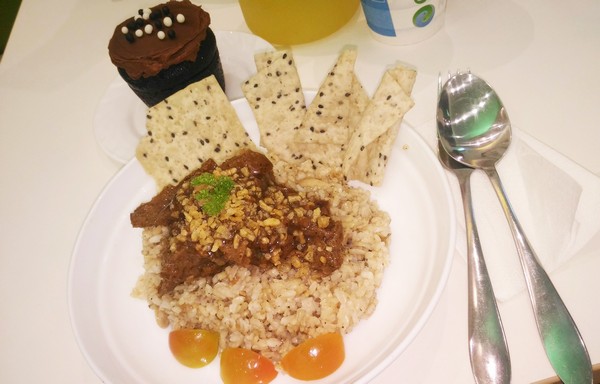 The Glorious Faux Beef Salpicao tastes like heaven.
 Apparently, you don't need to get a heart attack to taste a slice of heaven (more like a giant cake!) I too enjoyed this delightful dish so much my mom decided that we should bring some home! Let me explain: It's not real meat. It's made of marinated tofu, but it has the richness of real, well-seasoned beef. Faux meat has better texture than the average sirloin beef, though, so the former is arguably the better and healthier option. Like traditional salpicao, this dish oozes with garlic flavor, but probably the best part of it was its buttery after-taste, which was surprisingly not cloying (unlike the real deal). You just have to try it!
My mom, meanwhile, chose the Pepper Maple Chicken (Php230) and Spicy Tuna Pomodoro Pasta (Php190) for sharing. While she found the salad a little too tangy sweet for her liking, she did enjoy the spicy pasta, especially since it was just like what she would make! Nobody can probably go wrong with tuna pomodor, but Chimara's hits the right spot with the chunky tomatoes and spicy tuna. So if you feel like splurging on some filling pasta you can share with someone, skip the Jollibee counter and try this!
Of course to quench our thirst, my family and I ordered a carafe of I am Wise juice infusion (Php 150 for 1 liter), which was composed of fresh mango, apple and tomato juices. The combination was designed to boost memory.
We also tried the alkaline lemonade (Php50 for lean, Php90 for large) which is a sugar-free lemonade with a hint fresh cucumber and celery. This was an interesting drink, since it had a really mild (almost non-existent) sour taste. I liked that it was sugar-free, but I'm not sure if most Filipinos would be keen on the flavor.
Probably the best discovery for me was the Tofu Chips (Php250 for the large bag). I must have been living under a rock since my SO already knew about this bag of wonder many years ago. These tofu chips were so addicting it was easy for me to finish almost an entire bag in one sitting! I had to restrain myself from reaching for a bag at home (we took home two bags)!
Mom also tried a bag of fruit chips (Php200) but the supposedly drewze dried fruits weren't crunchy at all. That dodn't dampen our wodnerful experience at Chumara in UP Town Center though!
Overall, my family and I had a great time hanging out at the Chimara Feel Good Kitchen at UP Town Center! I'll most likely come back to try the other offerings.