Here's something the interwebs might not know about me: I have an eldest brother based in Malaysia. He and his family went to Manila for the holidays, and just a few days ago, the Merioles family in Manila had a quick get-together to bid my brother and his family farewell.
I also have a niece-slash-goddaughter whom my mom loves very much…
…because my niece looks a lot like my mom.
My other older brother dropped by with his girlfriend.
Here's my nephew with my mom and younger bro.
And here's a pic with the eldest and youngest brothers.
Soooo… enough about my family of big-boned people. Below are what we had for dinner.
Grilled Oysters with green mango relish. Php150 for 6 pcs and Php295 for 12.
The mango relish contains diced ginger, and it overpowers the oysters. I honestly don't understand how mangoes are supposed to go well with suspiciously old oysters. The ginger probably hides the yucky taste, IDK.
Tiuey Noodles. Php120 for Junior, Php295 for Medium.
On the menu, these noodles are "Asian fried noodles with beef, asparagus and cilantro." In real life, you get slightly-thicker-than-average noodles that look like a soba and linguine love-child. Noodles are very chewy, with a somewhat flour-y aftertaste. My younger brother joked that the sauce tasted like ketchup. I think the beef chunks are tasty, and the pasta OK.
Molino Salad. Php120 for Junior, Php210 for Medium.
Root vegetables and fruit salad in spiced creamy dressing with fish fillet. I suspect that the main part of the salad is composed mostly of diced beet roots and turnips.
Asian Fried Rice. Php120 for Junior, Php220 for Medium.
Here's another Asian inspired dish. It's not so bad, seriously. My nephew loves it.
The dish is made of stir fried rice, shrimp, tomatoes, scallions, and fried pork chunks. I think Uncle Cheffy cooks the rice in a special broth with either oyster or hoisin sauce (or both). If the rice weren't overcooked, I'd give this dish alone 4 out of 5 stars.
Lamb Sisig.
I can't find this dish on the menu. It doesn't taste that awesome anyway, so skip it.
Seafood Lovers Panizza. Php125 for Junior, Php220 for Medium, Php425 for Family.
A super thin unleavened bread with salmon, shrimp, clams, squid, herbs, onion and cheese. It has more onions and cheese than seafood, but I love panizza and how the alfalfa tastes so good with a single roll that I'll forgive Uncle Cheffy for transgressions like this any day.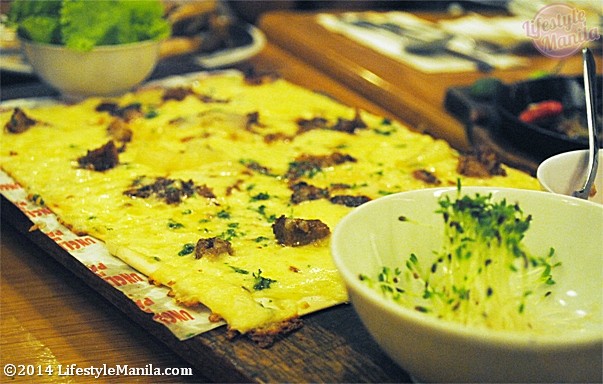 All Meat Barbecued Panizza. Php130 for Junior, Php235 for Medium and Php450 for Family.
Chunks of well-seasoned barbecue bits on a bed of cheese. I like it!
Memphis Barbeque U.S. Beef Back Ribs with salad and marble potatoes. Php 395 for 500g and Php695 for 1000g.
Meat is tender and flavorful, but pretty average. The baby potatoes are cooked and seasoned well, though. Like Uncle Cheffy knows the right amount of salt to add in the boiling water. I didn't care too much about the lettuce, because it had a strange tasting balsamic vinaigrette.
Uncle Cheffy Steak. Php595 for 180g and Php975 for 400g.
Grilled and roasted U.S. Rib Eye with marble potatoes and salad.
This is the best entree we ordered, although most of the thinly-sliced meat served was medium done already. Real good steak, ideally, should be ordered medium rare so the natural juices are still intact, AND you wouldn't have to use special steak sauce or anything.
Heat just ruins a perfectly good steak.
On an unrelated note, I'd like to know how to take better food pictures without spending a fortune on a new camera.