Hats off to working moms. As I went back to the workforce last month, I quickly realized how important multitasking really is for mothers everywhere. While staying at home and taking care of the baby is easy, going through Metro Manila traffic to work in the office and later taking care of the baby is tiring and time-consuming.
The daily tasks that need to be done every day often causes me to run out of time for myself. Sometimes I forget lunch. Other times I forget my laundry. And I haven't had my hair done in months!
But recently I got a break. Bangs Prime Salon is heaven-sent! It recently gave my lifeless hair its much-needed pick-me-up—a new cut and color that suit my hectic mommy lifestyle!
The Salon
There's a Bangs Prime Salon in SM Marikina, about 30 minutes away from my house even with moderate traffic. I popped by on a weekday, a few hours before rush hour, which meant I didn't have to wait for hours for my turn!
Although to be fair, I wouldn't mind waiting for hours. The salon has nice comfy lounge chairs covered in luxuriously soft fabric—so comfortable—and there's wi-fi to keep me amused. I can browse Instagram or laugh at Reddit posts while waiting.
The Session
Before my makeover sesh began, Ms Angel, my stylist, asked me about my preferred hairstyle and color. I told her I wanted something suitable for me. She told me about the best color for me, and I ended up picking a nice golden brown shade for my hair, and a medium-length cut, so it would be easier for me to wash and dry everyday (this is most important, since time is more precious than gold for moms like me!)
I knew in advance that the whole session would take at least 2 hours to complete—that's a lot in mommy time. To get a lot of things done, I brought my laptop with me, and thankfully the staff was very accommodating! They let me use their own computer table and even gave me a drink. I got to choose between their Korean tea and coffee (Nescafe original blend and brew). And in case my laptop ran out of juice, I could have also connected it to one of their power outlets, no question.
The Haircut
I wanted a medium-length that was easily wearable, but I didn't have any photos with me. So the staff showed me a set of photos for ideas on the look that I wanted. Getting my haircut felt quick! It probably only took 20 minutes to complete.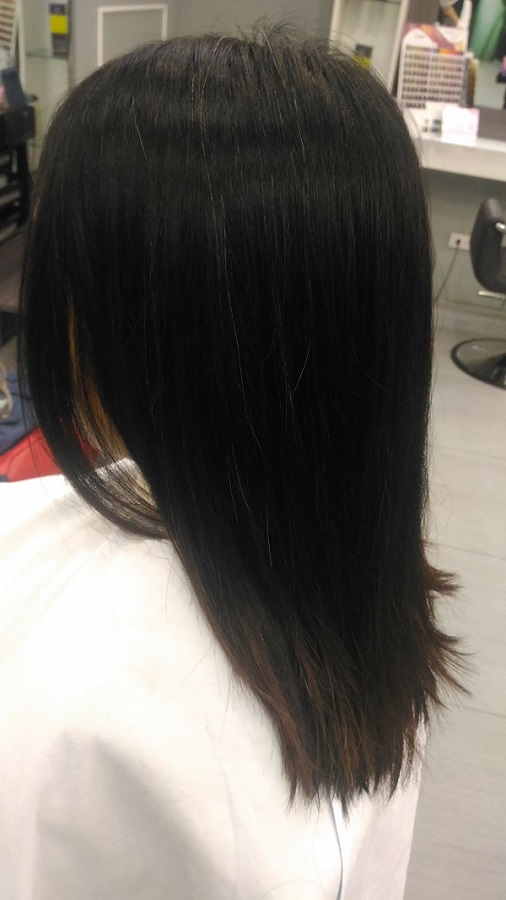 The Color
My head had lots of silver hair, and I wanted to get rid of them or at least hide them. The staff showed me the colors available and Ms Angel explained how the color I chose (golden brown) could end up looking a little darker than the sample. I was cool with it, since having to bleach my hair would take a lot more time to do.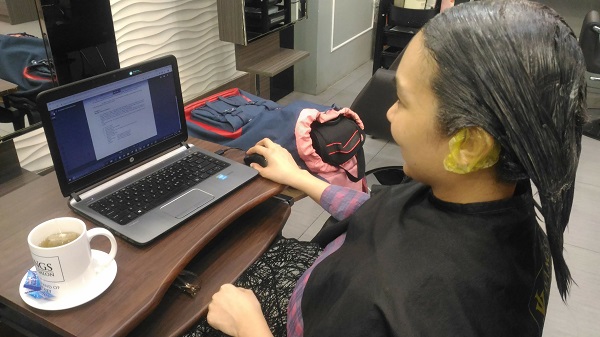 I was surprised about the ear caps—I've heard about shower caps protecting the entire head of hair, but it was my first time to encounter ear caps to protect the ears from getting hair color.
I'm also happy to share eyebrows were colored to match my new hair.
The Hair Treatment
Exposing hair to too many chemicals—through hair coloring, straightening or perming—can cause severe damage over time. Since I was no stranger to hair conditioners and masks, I knew that moisturizing hair treatments every so often was necessary to maintain healthy hair. So what should be done right after coloring hair?
The answer: Get a 6-step repair treatment system called the Mucota Scena Clinic. At first I was a little scared to try the moisturizing treatment out, because I thought it would cause my hair to go flat and limp. Thankfully it didn't!
After a good, thorough shampoo and rinse, Scena Ethos was applied to remove the unnecessary chemicals from frequent hair coloring and styling. It also helps maintain hair pH levels. It smelled so nice! After several minutes my hair was then rinsed.
Scena Adel was then applied to my hair. It was the moisture base before the treatment, meaning it helps damaged hair retain moisture and in great condition for the rest of the treatment. Adel's ceramide, cholesterol and amino acids help make sure my hair retains the moisture it needs. To make sure my hair absorbed all those good stuff, they used a steamer for about 10 minutes or so before rinsing.
I was then treated to Scena Brava, which contained five different hair repair ingredients to cover all kinds of hair damage. It not only repairs damaged hair, but also maintains hair structure. Brava was sprayed evenly all over my hair, let sit for a few minutes and then slightly rinsed.
After that Scena Calore was applied to repair cuticle damage, sealing hair ends and protecting the entire hair shaft in the process. Calore has two cuticle repair ingredients to encourage smooth and shiny hair. There was no steaming required for this step.
After several minutes, all the good Mucota Scena ingredients were rinsed off and a great conditioner called Aire was applied then washed off. Cold water was used to avoid unnecessary hair damage.
All in all the Mucota Scena Clinic treatment took about 40-60 minutes to complete. My hair was then dried, and I noticed that even with the blow dryer and hair straightener, my hair kept its beautiful, healthy appearance. I was so impressed!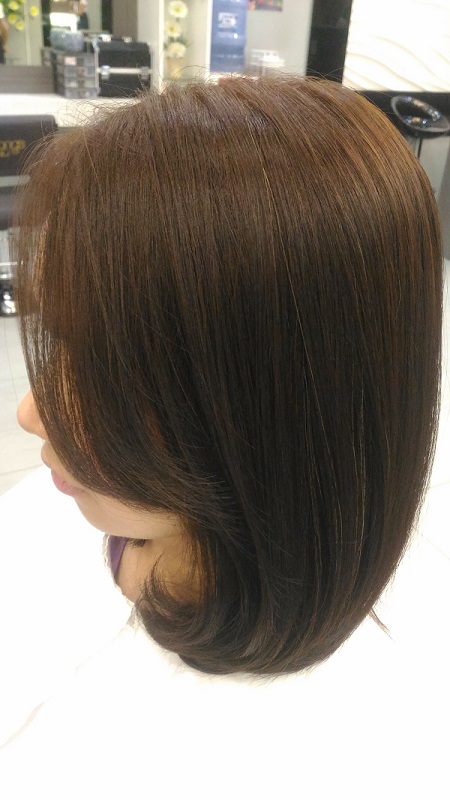 The Aftermath
Of course as soon as I got home, I sent my husband a picture of how I looked after the makeover. I myself couldn't believe how a 2-hour session at Bangs Prime Salon could bring back my "youthful glow"—I didn't look like I was a tired mess anymore. My hair was finally smooth and healthy looking!
Over the weekend my husband and I went out and I was surprised that he could not stop touching my hair! He didn't do that often, so it was definitely a pleasant surprise.
The Verdict
5 out of 5 stars! From the accommodating staff and skilled Korean Hair stylist, to the free wi-fi and drink, everything about Bangs Prime Salon focuses on keeping clients happy and relaxed. I still can't believe the salon let me use the computer table so I can work while getting my hair done! It's such a great help for moms—or even any busy career woman—like me.
Official Website:               www.bangsprimesalon.com.ph
Facebook Page:                 www.facebook.com/bangstnj 
Twitter:                               www.twitter.com/bangstnj
Instagram:                         www.instagram.com/bangstnj
YouTube Channel:           www.youtube.com/channel/UCxMqwZynFVaG1WwaZtzWuVA
SM Marikina branch:      706 2554
Head Office:                       526 1965 local 105, 113-114
Thank you so much!!! I'll surely be back.