One of the world's most beloved household brands, Tupperware Brands, has just given its loyal dealers and consumers another reason to smile. Tupperware Brands Philippines, Inc. gives back to the community on its 50th anniversary with a loyalty rewards program that offers Tupperware, Baby Care and Beauty products in exchange for accrued points.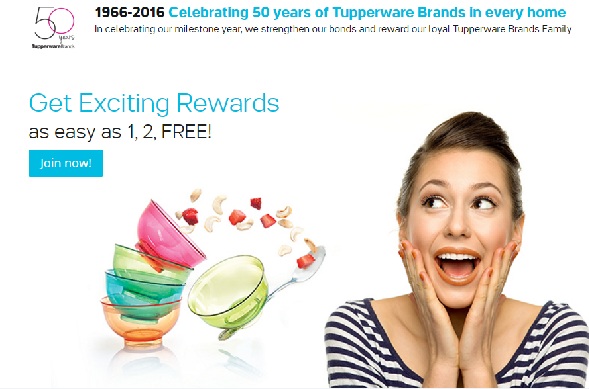 For years, Tupperware Brands has always appreciated its dealers' repeat business in the Philippines. Trusted and loved for the last 50 years, the company has become a household name by building a strong foundation on relationships and family. The Filipinos' tightly knit community has enabled Tupperware Brands to grow significantly since its inception in the Philippines.
A rewards program is the perfect opportunity for the multi-category direct-selling company to serve its valued dealers and provide a more rewarding experience.  To celebrate the half-century of Filipino traditions and excellence, Tupperware Brands decided to launch a program that reflects its gratitude to all its dealers who have shown dedication to its products. The Tupperware Brands 50th Anniversary Loyalty Rewards website is the ideal avenue to manage the rewards program.
By simply signing up at the Loyalty Rewards website using a valid email address, both new and existing dealers can earn points and receive free Tupperware Brands products as rewards.
To join the Tupperware Brands community and be a part of the loyalty program, sign up at http://tupperwarebrands50.com.
About Tupperware Brands Philippines, Inc.
Tupperware Brands Philippines, Inc. is a multi-brand, multi-category direct sales company. Its heritage in the Philippines dates back to 1966 when Tupperware's world-class kitchen and dining solutions first arrived in the country. Today, the brand continues to capture millions of Filipinos' hearts and change their lives with quality products in cosmetics, fragrance, skin care and home products. All these provide limitless income opportunities to the Filipino community.
For more information, visit www.tupperwarebrands.ph.