The first ever Trikini event-for-a-cause concluded in McKinley West Park without much fanfare, but it sure was fun!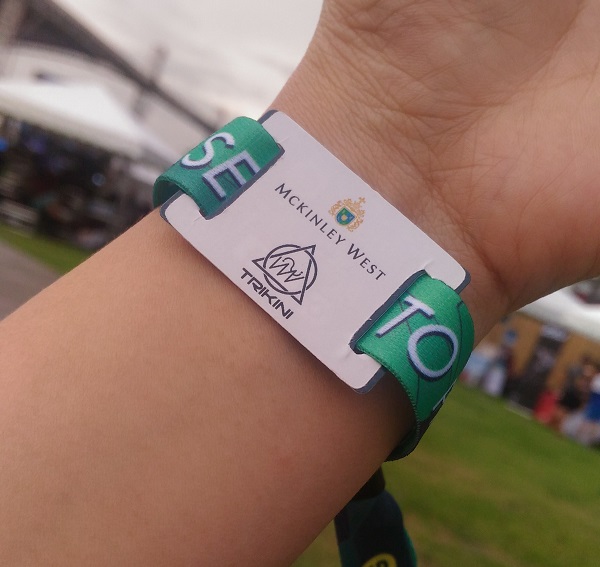 It was my first time to join a fun run, and I didn't expect to see this fancy microchip bracelet. The event organizers even got to scan our bracelets before we ran.
The event was slated to drive donations to SOS Children's Village Philippines, inviting food and gear kiosks such as Hot Off the Grill, Lock and Leave and ON shoes.
Winners of the friendly 5k run and 15k bike ride snag prizes from ON Shoes and Colnago. The running shoes pictured above are incredibly lightweight and they all featured nice looking uppers. For the women's shoes, prices range from 6k to 8k. I'll probably save up money for a good pair of running shoes like these. Note to self: Get a pair with good arch support.
I most likely finished last, reaching the finish line at around 6:13 p.m., but it was sooo fun. (And to think I went totally unprepared for the event.) I'm just glad I got to take home a finishers cap (I've been wanting to get a cap of my own, thanks, universe!) Note to self: Hydrate at least a day prior any runs, prepare for the run for at least 8 weeks, and rehydrate immediately after the race.
And the day ended with some music from SinoSiKat, Extrapolation and Sanya Smith.
What's cool is that there will be more Trikini events to come! "The Trikini Series shall continue in other loations and seasons aligned with our mantra that it's always a matter of here and now to get fit and enjoy the outdoors," says Sam Okal of GEO Events Management.
"The ultimate goal is to encourage more city dwellers to live active lifestyles and enjoy the outdoors, no matter what the season."