Trampoline Park, the giant warehouse filled with dozens of unique trampoline "mats" stretching from wall-to-wall, will soon hit Manila! Jump, fly and bounce. Go crazy!
The Trampoline Park experience will be similar to this:
This is the cool experience my brothers and I had been talking about last year! Awesomesauce! The famous American concept has become a global craze in recent years, with over 350 Trampoline Parks in the U.S, Europe.
The first Trampoline Park in the Philippines is set to open in the Portal, Greenfield District, Mandaluyong (off EDSA near Shaw Blvd). The Park will offer an amazing flying adventure featuring an open jumping court, Dodgeball and Volleyball courts for exciting gravity-defying sports, special fitness and Zumba classes performed on Trampolines, and even Basketball lanes for slam-dunking. Yep, even kids can finally experience how the pros do it, but in style!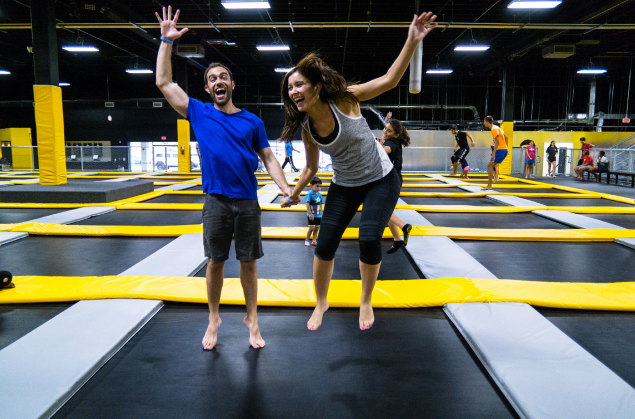 "We will have basketball slam-dunk competitions every week!", says Mark Hogsden, co-founder of Trampoline Park Philippines. "The beauty about Trampoline Park is that—it will to be the first and only place in town where everyone – even Filipino kids will be able to slam-dunk for their very first time!"
GREAT NEWS!
Trampoline Park is currently offering a limited edition of 'Founders Membership Cards', only for the first 500 customers who choose to avail it. The exclusive card will provide customers with a guaranteed 50% off for flying at Trampoline Park anytime on weekdays. So, if you're looking for a place where your high-flyin' spirit can jump, bounce, flip and even slam-dunk – Trampoline Park will be the place for you. To find out more, sign up for the newsletter at www.TrampolinePark.ph.
Personally, I'm just so excited to check out Trampoline Park.