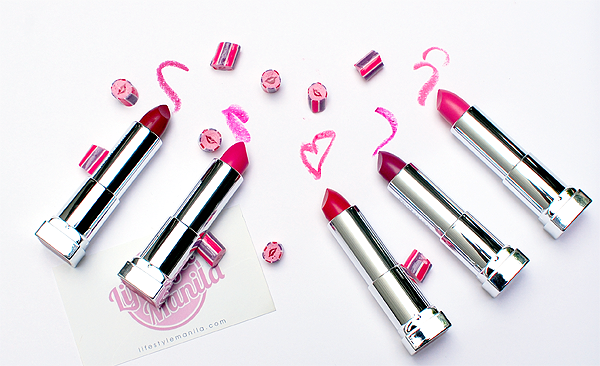 Left to right: Vivid 5, Vivid 6, Vivid 7, Vivid 8, Vivid 13
The new Maybelline Vivid Mattes come in juicy colors! Surprisingly, these babies don't carry the sweet scent that the other Maybelline lippies I've tried have.
These shades may look the same on paper, but the colors appear very different on Filipina skin! All lippies drastically change shades on my lips over time, however, so I can't really make swatches without guaranteeing how they all really look like on other people.

My new fave lippie: The new #VividMatte lipstick by @Maybelline in Vivid 8
PROS
Smooth application
Semi matte finish
Affordable at Php299 (and less, if Maybelline is on sale)
Juicy colors suit any Filipina skin
No strong scent
CONS
Shades become darker and/or brighter within an hour!
VERDICT
The colors are worth a try, like Vivid 8, above.
These Vivid Mattes add a pop of instant color on an otherwise pale complexion. I see myself using any of the shades on a weekend out with my family or SO. Keep in mind, depending on the shade, the color upon skin contact either becomes darker or brighter. And to think the other Maybelline lippies I've tried hardly reacted to my lips! So try these new shades at your own risk. Visit the nearest Maybelline counters at Watsons or your nearest department stores to try the cutesy, candy shades.
To know the latest promos and products from Maybelline, check out the official Facebook page!