A fed baby is a happy baby, and I'd rather have my nipples bleed than hear my little one cry. So within the past three months I quickly learned how important some clothes, tools and gadgets are for breastfeeding success. I believe every mother should have certain items –the bare basics– with her to make the most of her breastfeeding journey. 

Here's my list, in no particular order:
Nipple Balm
Any organic soothing balm will do. Nipples that are being constantly exposed to a latching baby and her saliva will want to spread nipple balm right after each feeding. It helps make nursing a lot more easier to bear, especially during the first four weeks! It could be any baby-safe balm–whether a Lansinoh lanolin ointment or Coconut oil.
WHERE TO BUY: Babymama.ph, The Parenting Emporium, Lazada, Shopee and any mommy store online
PRICE RANGE: php200 and up, depending on the tube/bottle
Hospital-Grade Pump 
Medela and Spectra are top brands in the breast pump world, but I believe the Horigen line is also making waves since it offers silicone flanges which make pumping a lot more efficient. The idea behind breast pumping is to essentially suck out the milk through the ducts in your nipples, which means the closer the pumping action is to an actual baby's rhythmic mouth movements, the better.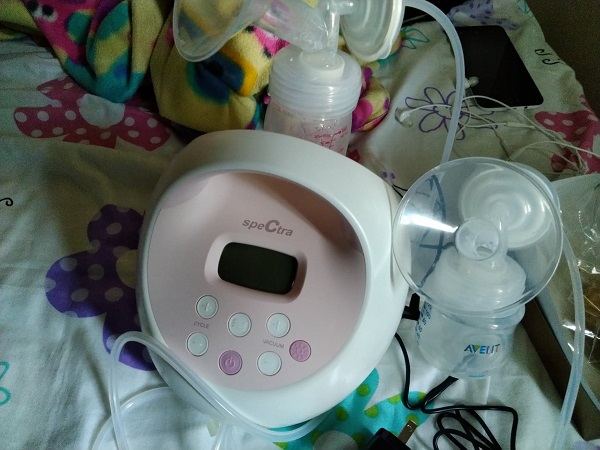 I myself have a Spectra S2 that I have been using at least for 30 minutes a day since August 4th. I can't say that the pump has been successful at draining my boobs dry, but it helps me harvest an average 3 oz milk within 15 minutes. For a first-time mom who considers time and milk are gold, this is decent output rate.
HOT TIP: The right flange size will not only help you squeeze out milk, it will make your regular pumping sessions more comfortable.
WHERE TO BUY: Babymama.ph, The Parenting Emporium, Lazada and Shopee have different breast pumps available.
PRICE RANGE: Single pumps are cheaper, but expect to shell out at least php500 for an RH228 pump set, php8,000 for a brand new Spectra, or php12,000 for a brand new Medela.
Future mommies beware, though: A pump is like a car–high-maintenance. Pump parts wear down within months since these experience constant cleaning and sterilization, so expect to shell out around php500 on broken down pump parts every 2 months or so.
Let-Down Catcher / Modern Manual Pump 
This is extremely handy when nursing a baby, if you can position your baby in such a way that she won't hit your other boob while nursing. Since the other boob leaks while the baby is nursing on the other, using a product like a haakaa is a cheap way to save about 1-2 oz of let-down every nursing session. The only downside for me is that it can be a pain to clean! If you find a way to get around that, let me know!
WHERE TO BUY: Babymama.ph, The Parenting Emporium, Lazada and Shopee have different breast pumps available.
PRICE RANGE: There are let-down catchers as cheap as php150 on Shopee, but purchase at your own risk.
Nursing Bra
These are, for me, absolutely essential since nursing boobs tend to grow several sizes bigger throughout a mother's breastfeeding journey. They offer support every time, whether you're nursing or not.
There are coobies in the Philippine market that cost php1,100 brand new, and there are off-brand ones on Lazada or Shopee for a fraction of that price. I have both coobies and off-brand ones, and for me, coobies have a softer, more comfortable feel. They also retain their original size better.

WHERE TO BUY: Online, Mamaway
PRICE RANGE: php300 for cheap ones on Shopee; up to php4000 for Mamaway and other more expensive brands
Nursing Top / Dress
Exclusively breastfeeding your little one means she will need instant access to your breasts round the clock for as long as you're breastfeeding. On my list of good finds, aside from Shopee where Taytay stalls can be found online, are:
Kaypee Baby – Everyday nursing wear ranging from tops to classy casuals. Extremely affordable.
Work It! – Customized nursing dresses, check. What a find!
Debrie & Co – Nicely made tops and dresses at mid-range prices. I recently ordered their Briony 3-in-1 maxi dress in size 1 and it looked absolutely flattering. It was a little on the big side, but the drape was so flattering ang lakas maka-donya.
Elin.ph - A lot more expensive than the above three, but the style, fit and fabric are luxurious.
PRICE RANGE: php250 and up, depending on fabric, style and workmanship – you usually get what you pay for
Nursing Cover
If you already own accessible nursing wear, then it might be cheaper to just use nursing covers. Personally I prefer nursing tops, or just button down shirts, but for the demure mommas who wish to remain stylish, nursing covers are their go-to breastfeeding companion.
WHERE TO BUY: SM Baby Company, Instagram shops, Shopee, Babymama.ph
PRICE RANGE: php120 for cheap ones on Shopee; up to php1000 on Instagram
Hands-Free Bra
If you've decided on exclusively pumping or building a stash for when you get back to work, a pair of hands-free bra or two will soon be necessary. You just can't hold two pump bottles all the time, even if your pumping session is as quick as 10 minutes! You will also want to use your hands for getting chores done or working at home.

If you have a nursing bra, then getting a clip-on hands-free bra is a good option. Through Shopee, you can get an M Tuesday Clip-on bra (pictured below) for a fraction of what it costs on Amazon. Clip-on bras just hook on nursing bra straps, making it easier and safer to breast pump in public lactation rooms.
WHERE TO BUY: Babymama.ph, Lazada, Shopee, various mommy shops on IG
PRICE RANGE: php450-php3000 for Simple Wishes and other more expensive brands
Lactation Aids
If you don't have a malunggay tree in your backyard, you can help your body produce a lot of milk by eating/drinking/swallowing lactation aids. There are mommies on Instagram who know how to bake cookies and brownies filled with galactogogues like rolled oats, flaxseed and brewer's yeast. Plust, they are yummy and filling! Shopee sellers offer M2 tea, Mother Nurture drinks and a lot of other good stuff that can help with mommies' milk supply.
But of course, if you don't think you'll have any problem breastfeeding your baby, you can opt to skip taking lactation aids altogether.
HIGHLY RECOMMENDED
Legendairy Milk Liquid Gold – a blend of organic goat's rue, milk thistle seeds, shatavari roots, fennel seeds, alfalfa leaves and anise seeds are believed to help increase supply, and it works for me. You can order a 60-capsule bottle for Php1499 or less online, at milkinmommies.com or Shopee.
Milo/ Ovaltine - the malt in these drinks are believed to help with the supply. I'm not sure if drinking any of the variants really works, but I suppose it does help. Why? Because these are delicious energy drinks I can't get enough of. Calories help the body with milk production, so anything that can help breastfeeding mothers retain weight earns my vote.
Moomy Lactogenic cookies/brownies – one of the cheapest baked goods so far! I love the brownies which cost around php480/pack of 24pcs. A pack only last me 5 days at best, because they're so good! Plus, they're less sweet than the others I've tried. I notice a consistent supply of at least 5oz on my left boob per session whenever I'm on any of Moomy Lactogenic's awesome goodies. These are available on Moomy's Instagram.
Final Thoughts
On these breastfeeding equipment/accessories alone, expectant moms should expect to spend perhaps php2,000 or more a month. I wasn't aware of these when I was pregnant, so hopefully this post will help future moms out there to better plan an enjoyable breastfeeding journey.