I've been meaning to try authentic Japanese food in Little Tokyo since probably forever, and luckily I got to try one of Little Tokyo's best restos, Sekitori, just ten minutes away from me.
Sekitori's Ortigas branch offers large portions of authentic Japanese food, and I suspect it's because one of the owners is a former sumo wrestler. What's great is that the large portions and excellent food quality justify the slightly exorbitant prices. Take a look at this impressive menu. <3
During that dinner I decided to post the pictures of the dishes I enjoyed. Check them out below.
Irodori sakizuke tsyumori - 7 appetizers set
Php490
Mostly composed of an assortment of braised fish, pickled fish, seafood salad, crabstick egg rolls and braised (or perhaps steamed?) shrimp.
Presentation is beautiful, and the appetizers offer enough flavor to help prepare you for the main dishes.
Gokai sashimi no tairyou funamori - Assorted premium sashimi on a wooden boat
Php3800
This is a very expensive boat! This mini fishing vessel offers a delicious (read: fresh) assortment of fatty fish. And none of them have that odd fishy taste. The ones I've tried are:
Japanese torafugu (thinly sliced tiger blowfish) – A bit on the chewy side, but has a clean, mild taste.
Fatty Norwegian salmon sashimi – Almost melt-in-your mouth texture!
Tuna sashimi – Another melt-in-your-mouth experience
Sea urchin sashimi – Actually the best uni I've tried!
Shrimp – Sweet and tender
Salmon Nanban Teriyaki-fu - Deep fried salmon seasoned with teriyaki sauce and topped with tartar sauce
Php370
The salad is my favorite. I'd love to know how they made it so mild and fresh, and with just the right hint of tang. The lightly battered salmon are deep fried before smothered with tangy teriyaki sauce. The tartar topping blends well with the lightly tart sauce. From the veggies to the sauce, I love this!
Lapu-lapu no Sugata-nitsuke - Whole lapu-lapu braised in sweet soy sauce
Php780
Don't let the somewhat unglamorous presentation fool you. I've never had Lapu-lapu braised this well. The sauce has the right amount of sweetness to it.
Wagyu Sirloin - A5 rank Wagyu beef premium sirloin steak
Php2700
Served rare, this fatty slab of heaven can be cooked according to preference just by placing the piece on the black grilling stone.
Special California Roll
Php590
Here's a delightful twist to the sushi favorite! Like the other dishes, a single order of this roll is enough for two to three guests. Each piece is already a big mouthful. In fact, I don't think anyone can fit a piece in his or her mouth. At all. It's just that big. So sulit! This dish has mango, crabstick, cucumber and salmon (surprise!), coated with fish eggs and drizzled with light mayo.
Really love the dipping sauce, too, cause it's a proprietary blend. Sekitori doesn't serve Kikkoman sauce, which is good since Kikkoman sauces tend to be overpowering.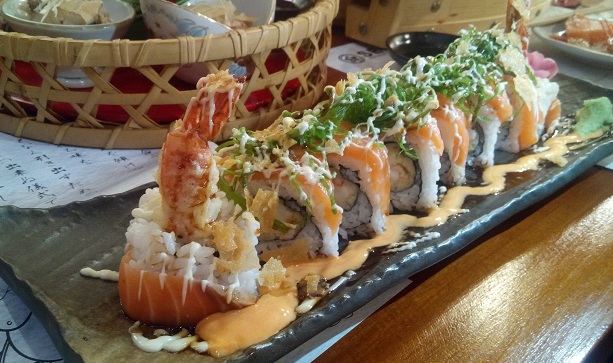 Salmon Lovers Roll
Php750
Another filling dish! This roll has shrimp, mango, avocado, cucumber, and thinly sliced salmon pieces. The fried wonton bits add a bit of crunch. So yummy!
Tuna sushi
Super fatty, finely sliced tuna pieces on top of Japanese rice. Another dish that just melts in your mouth. It's really good. Unfortunately I don't know how much this dish costs.
Strawberry Milk
Php200
There's no better way to finish your dinner than downing some nice, cold glass of milk. This one has whole strawberries in it!
Granted, the strawberries may have come from a can of strawberry preserves, but the drink reminds me of my favorite strawberry shake so I just can't exclude it from this post.
VERDICT
Taste 5 out of 5 stars (best sashimi yet!)
Ambience 4 out of 5 (nice and cozy, but a bit cramped space)
Value 5 out of 5 stars (large portions and delicious taste!)
Overall 4.5 out of 5 stars Highly recommended!
Address: Hanston Square Building, 17 San Miguel Ave,Ortigas Center Pasig City