Late last year I got to spend my first trimester at South Korea with my localized Benedict Cumberbatch (my husband!) Since this was our first trip out of the country, we both agreed to be more willing to drop cash on food and personal goodies. That was a relief, because I am (and have always been) a worry wart when it came to nearly everything, especially my financial security. The only time we began worrying about on-hand cash was halfway through our stay!
When we toured Gangnam a bit, there was a big Olive Young branch that got my attention instantly. At that time we've both neglected to slather moisturizers all over our bodies, and since South Korea in November is usually 0 degrees cold, our skin were already dying for something soothing.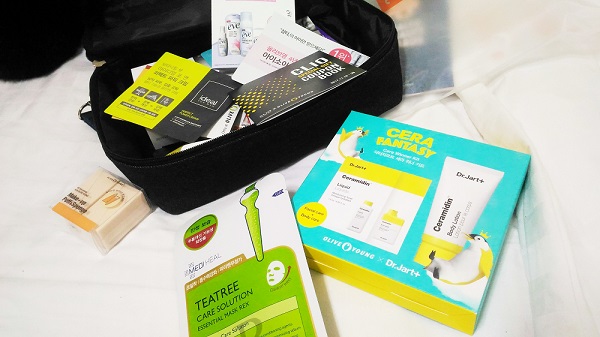 My husband let me swipe my card for about KR84,000 worth of Dr. Jart beauty products (not a lot), and luckily it happened during Black Friday week. Olive Young was doing some promo that I couldn't really tell, but I was happy to receive a bunch of beauty stuff from the "2017 Health and Beauty Awards".
I got a Tea Tree mask, some makeup sponges, feminine cleansers, toothpaste, moisturizers, serums, shampoos and even facial washes for men. I'm not sure if I had given those to my husband. I'm pretty sure I gave away most of the samples to my mom, keeping just a handful of stuff for myself. Here are some of the stuff that stood out for me:
All the goodies came in this denim beauty case. I love that I got it just when I needed to throw away my old makeup cases!
Ads for Dr. Jart+ Ceramidin line had been nearly ALL OVER Olive Young stores when we were there, and by the third or fourth time I saw the little yellow penguins I was already curious. I like that the freebies I got came with sachets of the entire product line, plus a 30ml tube of the body lotion.
I've already finished using the Ceramidin body wash, scrub, serum and liquid–got to use them on my chaffed thighs and face at SoKor. The ones left are the cream and lotion. Smell- and texture-wise they're all a little different from each other, but efficacy-wise, I'd say my favorites are serum, cream and lotion. The lotion tube, I have to say, protected my thighs pretty well at SoKor (though they had some help from my fave Cicapair cream)!
VERDICT
Overall I'm pretty happy with the freebies I got from Olive Young! I can't wait to try the other samples.