REGRAM the above photo with #MaybellineNYFWxKax and #MaybellineNYFW for a chance to win goodies from me! Contest winner will be announced October 17.
Behold: From the much celebrated New York Fashion Week S/S 2016, Maybelline New York brings the biggest on-trend beauty looks to the Philippines and ends 2015 with the biggest flash sale!
Trend 1: Modern Mattes
From left to right: Maybelline Bold Matte lipsticks in Mat1, Mat5 and Mat4.
Pucker up and spice up your look with a sizzling red pout. It's classic, it's bold, it's matte. A very clean face with a pop of color maybe all you need in the coming season. Maybelline New York's latest line of Color Sensational (read: instensely pigmented) lip colors deliver a sensational matte finish. Just build layers of color to take your look from day to night!
From left to right: Mat5 on Yam, Mat4 on me and Mat1 on Pau.
Indeed these lipsticks are richly pigmented! Will definitely make you look polished even with just a plain shirt and jeans on! Just one swipe on the lips and you're ready for a board meeting. Add another swipe and you can head off to a night out with your beau.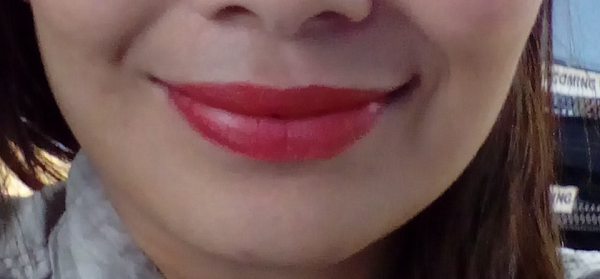 Verdict: The new Bold Matte lippies are non-drying, non-greasy and fairly long lasting. After a heavy meal and a drink, the lip color faded a bit, and left a stain on my lips. I'd give this baby 4 out of 5 stars, mostly because it is hard to find matte lipsticks that don't dry out my lips.
Trend 2: Dramatic Eyes
Big, bold eyes are in in 2016 (Finally! and Thank God my pop-eyes are in!) With the new Color Tattoo 24HR Cream-Gel in Creamy Beige solo shadow, The Nudes palette, and the Eye Studio Lasting Drama Gel Liner, you can get awesome sultry eyes.
Verdict: The Eye Studio Lasting Drama Gel Liner should be in every lady's makeup kit. Though a little bit tricky to apply, the brush is soft on the lids, and the gel liner itself applies smooth and creamy. Highly pigmented and difficult to rub off, too. Overall, 5 out of 5 stars (and hopefully the pot doesn't dry out unlike other gel pots).
Verdict: Subtle, creamy and stays put! Color Tattoo 24HR Cream-Gel in Creamy Beige works as the perfect lid primer as it doesn't budge even on oily lids (like mine). I give this 5 out of 5 stars!
Trend 3: Strong Brows
Rock strong, natural-looking brows just like the runway models at this year's New York Fashion Week! The Fashion Brow Palette (coming soon) is a multi-purpose brow and nose palette that has everything you need to shape and fill your brows and contour your nose (yay!). Match your well groomed brows with bright eyes and full lashes with Maybelline's Duo Shaper and Mascara. Finish off the look with matte skin with the most superior White Super Fresh 12H No Touchup powder foundation.
Beautiful brows, big eyes and bold lips. What do you think?
The Good News
Want the runway look? Maybelline New York products help you #MakeItHappen! Maybelline's New York Fashion Week sale lets you grab all the items mentioned above (and then some). Enjoy discounted Maybelline products for as low as P150.00. The Maybelline New York Fashion Week sale will run from November 13, 2015 up to December 15, 2015.
Check out MaybellinePH's Facebook page for more info.