The world's first extensive range of certified organic products, Miessence, has yet to reach Philippines shores. Until now.
Get the chance to sample some of their skin care products!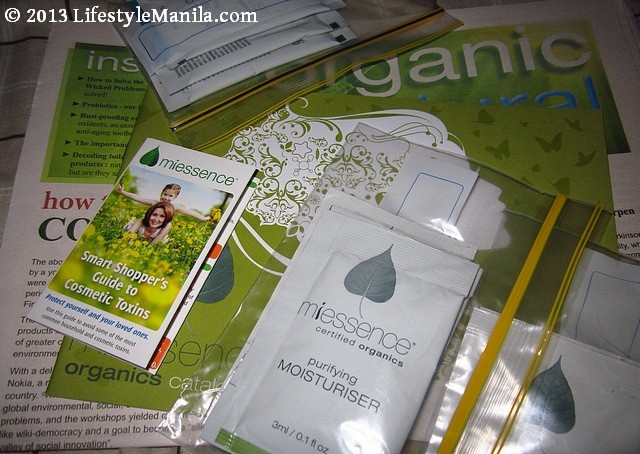 Up for grabs are the product samples available in Miessence's Purifying and Soothing facial skin care systems, as well as sample sachets for Miessence's hand cream, body cream and body wash. I'm giving away three ziploc bags each containing three product samples.
The Purifying system is formulated for oily skin. If you're prone to breakouts, blemishes and clogged or open pores, then Miessence's purifying system is for you. The cleanser, skin conditioner and moisturizer available in this system contain essential astringent ingredients from organic burdock, echinacea, nettle, witch hazel and tea tree. Each 3ml sachet is worth AUD2.
The Soothing system, meanwhile, is ideal for skin that often feels irritated and appears blotchy. Sensitive skin will greatly benefit from Miessence's Soothing skin care system, especially with its botanical extracts from chamomile, horse chestnut, carrot seed and witch hazel. Each 3ml sachet is worth AUD2.
The third bag contains Miessence's nourishing hand cream made of organic shea butter, aloe leaf juice, bitter orange fruit extract, olive juice extract and rose oil. The sunflower body wash ingredients include aloe leaf juice, sunflower seed oil and essential oils from sweet orange, lemon and lime. The intensive body cream contains sunflower seed oil, avocado oil, shea butter, olive juice extract, patchouli essential oil and geranium essential oil. Each sample is worth AUD2.

Here's how you can join:
1. You must enter via PromoSimple.
2. You must complete all required tasks mentioned in the PromoSimple widget below.
3. You must be sure to mention which ziploc bag (sample pack) you want to win.

Promo ends March 15, 2013. Winners will be announced on the Lifestyle Manila Facebook Page. Details on how to claim the prize at Eastwood City will also be sent out via email.