Japanese food in Metro Manila is just as common as taxes, pollution and poverty. When it comes to good Japanese food in Quezon City, however, you will need to scour the streets for something that a) won't put a dent on your budget, b) will satiate you with a meal that satisfies your Filipino palate and c) will also offer entertainment options other than HBO on cable.
Case in point: Go-en Ramen Shoppe.
Go-en Ramen Shoppe, so named after the five yen coin which sounds a lot like the term for establishing good connections, launched in 2012 to offer "real" Japanese favorites. These dishes boast Japanese flavors that suit Filipino taste buds (you know how we love sweet and savory flavors).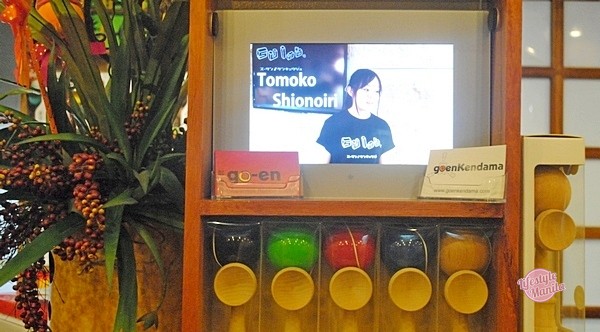 English translated manga are available for in-house reading, while Kendama are available for purchase. If anyone asks, the kendama can cost as low as Php550 and as high as collectors' items at ~Php6,000.
If you're curious about kendama, it's a traditional Japanese toy that is a lot similar to the cup and ball game wherein you shoot the ball in the cup. Watch:
You can watch the kitchen crew prepare your meals!
Below are some highly recommended Japanese food:
Kogashi Shoyu Ramen (Php380 for the full bowl)
If you could only spend your money on a single bowl of ramen, you should get the kogashi shoyu. This bowl consists of a delicious, peppery shoyu soup base, flavorful pieces of chasu (with a hint of anise perhaps?), egg, seaweed, sprouts and naruto (fish cake slice).
Cheese Ramen (Php350 for the full bowl, pictured above)
A flavorful, rich and creamy bowl, the Cheese Ramen is perfect for cheese lovers! This miso based soup contains bean sprouts, corn, marinated soft-boiled egg, minced pork and a huge mound of slightly sweet cheese.
Mabo Ramen (Php350, full bowl)
The spiciest ramen on the menu, the Mabo Ramen has big slices of red chilies to wake up your senses. Don't let the red color deceive you, though. This spicy, soy based ramen contains minced pork and a healthy dose of chilies that the average Ilocano will most likely be able to tolerate.
Tantanmen Ramen (Php380, full bowl)
The unusual looking and tasting ramen, the Tantanmen is composed of sesame broth, chili oil (for a hint of spice), sprouts, ground pork and egg.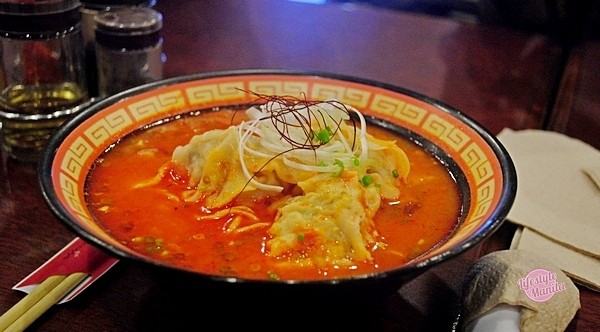 Wonton Tomato (Php380, full bowl)
One of the latest ramen flavors, this tomato-based soup contains pepper threads and a mild-tasting shrimp wonton. Slightly on the salty side, the Wonton Tomato can be likened to Asian spaghetti.
BTW, these bowls are available in Ramen Delight (small bowl) for a fraction of the price.
Kakiage Don Php175
Possibly the best tasting fried vegetables I've ever tried! Has an amazing umami flavor unlike any kakiage I've tasted.
Sakana Don Php175
If you ever want to eat a thousand pieces of something, eat rice. And if you ever decide to have four fried fish fillets (F4?) and a thousand pieces of something for lunch, get the Sakana Don. A bowl of Sakana Don is probably enough to feed a family of four, too.
Karaage Php250
A MUST TRY! Imagine sinking your teeth into these lightly battered, boneless chicken thighs. Each order of these garlicky, crispy, and tasty chicken pieces is served with a dollop of Go-en's special Japanese mayo and a wedge of lemon.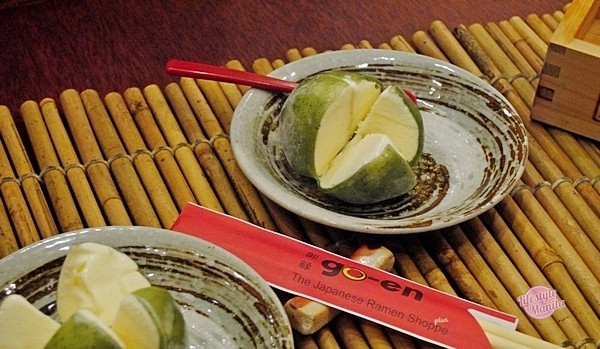 Matcha Mochi Php80
Hve you ever taken a bite of a mochi ice cream ball only to realize that your teeth aren't made of steel? Go-en Ramen's mochi ice cream has a thin layer of flavored mochi so you can enjoy the textures and flavors more. Start a delightful, creamy party in your mouth and try the latest mochi flavor, matcha. It blends well with the big scoop of vanilla ice cream!
VERDICT
Flavors: 4 out of 5 stars
Price: 4 out of 5 stars
Ambience: 4 out of 5 stars
Overall: 4 out of 5 stars
Address: Jardin de Zenaida Compound, Unit B1, 34 Sgt. Esguerra Ave, Diliman, Quezon City
Hours: Monday – Thursday 12PM – 11PM | Friday – Sunday 12PM – 12MN | Last call for orders, 30 minutes before closing.