Isn't a psycho thriller just the film you need for a good post-Valentine's date?
The actor that portrayed Lucius Malfoy in the Harry Potter series has taken another ominous role in "A Cure for Wellness," a chilling and mind-bending psychological thriller.
Dr. Volmer (Jason Isaacs), runs a remote alpine medical spa where residents can purportedly receive a miracle cure. Lockhart (Dane DeHaan) visits the place to retrieve his boss, Pembroke (Harry Groener), who happened to be a patient at the spa and who has told his staff about his intention to never return to New York. Lockhart arrives at the tranquil sanitarium where the residents are supposedly receiving a miracle cure. As Lockhart learns more about the dark and baffling secrets behind the spa, he meets a female patient, the hauntingly beautiful Hannah (Mia Goth). He also gets to know another patient, the eccentric Mrs. Watkins, played by Celia Imrie, who has done some detective work of her own. Soon, Lockhart is diagnosed with the same condition as the other patients, and finds that he is trapped in the alpine retreat. Lockhart begins to lose his grip on reality and has to endure unimaginable ordeals during the course of his own 'treatment'.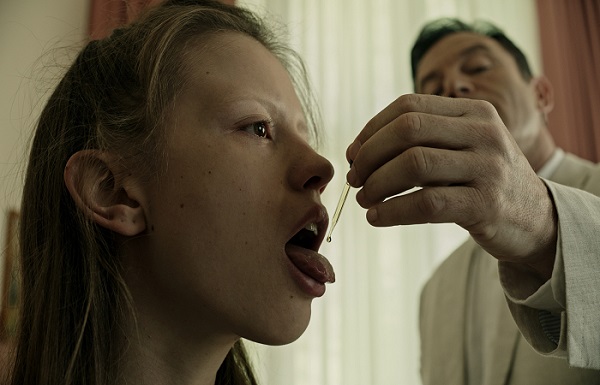 Embarking on the movie, Gore Verbinski wanted to make a thriller with the depth, insight and power of classics in the genre that he admired, such as "The Shining" (Stanley Kubrick's 1980 film), "Don't Look Now" (Nicolas Roeg's 1973 film) and "Rosemary's Baby" (Roman Polanski's 1968 film). The idea of a quick fix cure, together with society's malaise and the obsession with perfect health were topics that fascinated Verbinski, whose films include the hugely successful "Pirates of the Caribbean" franchise and the Academy Award® winning animated film, "Rango".
"We started exploring the notion of a health spa in the Alps, a wellness center that doesn't actually make you well," says Verbinski, "and it slowly evolved from there. It became pretty clear to us that this was going to be a genre piece, and we started playing around with the concept of inevitability. It's the sense that there is a sickness, a sort of black spot on your x-ray that won't go away!"
One of Hollywood's most exciting young actors, the gifted and charismatic Dane DeHaan ("Kill Your Darlings", "The Amazing Spider-Man 2", "Life") was thrilled about taking on the role of Lockhart and working with Verbinski. "To listen to Gore's vision and hear how passionate he was about it, and then to read the script and understand what a challenging role it was—that was irresistible," says DeHaan. "My character goes through so much in this film, it's crazy. And this was an opportunity to work with a great filmmaker."
"A Cure For Wellness" opens February 15, 2017.
Rated R-16 by the local censors board (MTRCB).