Ginseng works to help the body adapt to stress naturally. It is believed to relieve stress and fatigue, as well, boost mental efficiency and the immune system. And the root plant is capable of boosting libido, too! With all these wonderful benefits we can get from Korean Red Ginseng, don't you think it's about time we get the product available here in the Philippines?
If you're in Manila, you're in luck!
For over 112 years, Cheong Kwan Jang has been providing comprehensive ginseng products for the family's health and lifestyle needs. Now, the provider of the best Korean Red Ginseng–the world's number one company in international Korean ginseng sales–has just opened its first branch at SM North Edsa Annex!
What's great about Cheong Kwan Jang is the superior quality in its products due to the excellent cultivation techniques that they've been using for thousands of years. Over the years the brand has gained a reputation for producing highly effective products by ensuring the quality of the ginseng. The company only uses ginseng that has been grown for 6 years—the ideal growing period for a mature plant with maximum health components. This is why Cheong Kwan Jang is the most trusted brand of Korean red ginseng in the world. The products are so nice, they're even being sold at Harrod's, a luxury department store in London!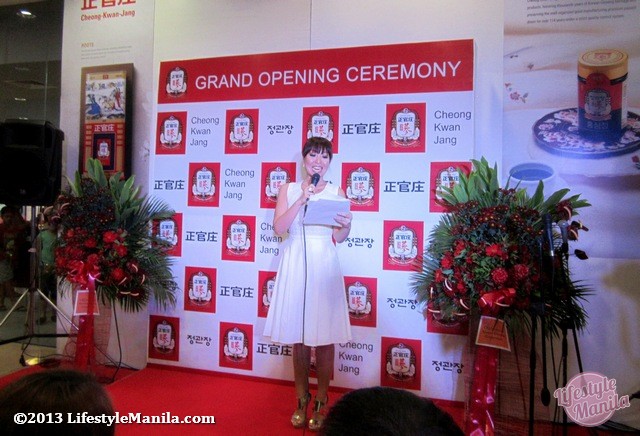 At the Grand Opening Ceremony on September 21st, I was lucky enough to try the red ginseng candy as well as the tea with honey–they taste pretty good. I love brewed tea, personally, but instant red ginseng tea is definitely not bad. The taste can somewhat be described as a bland ginger tea with an earthy flavor.
Sam Oh, Jinri Park and Sam Pinto posing for the camera
Korean Red Ginseng Extract
Korean Red Ginseng Tea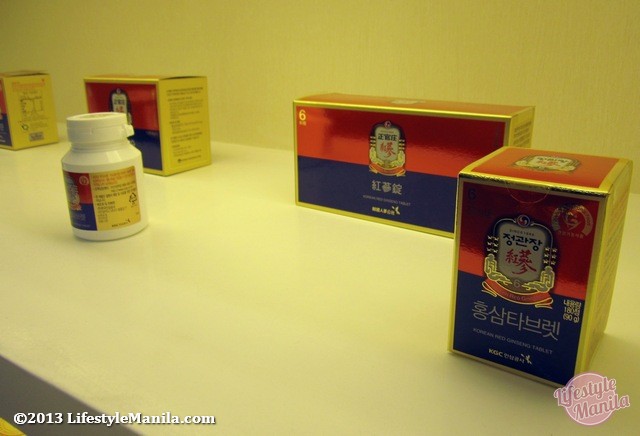 Korean Red Ginseng Tablet
Korean Red Ginseng Extract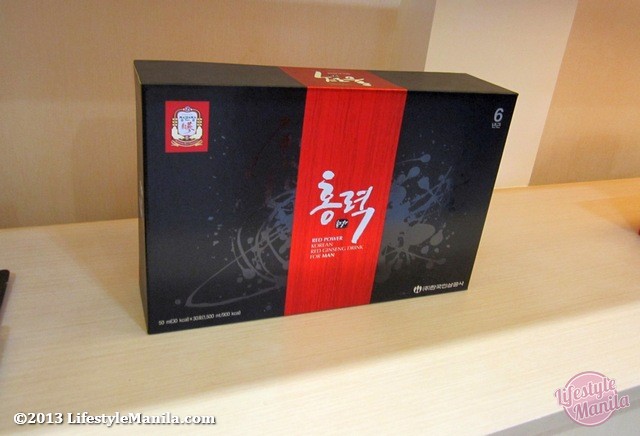 Korean Red Ginseng for Men
| Product | Price (as of Dec 2013) |
| --- | --- |
| Extract Plus | Php 2,100 |
| Extract Capsule | Php 2,000 |
| Extract Pill | Php 2,400 |
| Powder Capsule | Php 2,400 |
| Tablet | Php 1,890 |
| Korean Red Ginseng Tea | Php 980 (50 bags) |
| Candy | Php 430 (240 g) |
| Sugar-free Candy | Php 540 |
Who do we thank for bringing this vital product to our Filipino lives? Thanks to Richie Import & Export Trading Ltd Inc., Cheong Kwan Jang ginseng products are now available in the Philippines.
Visit the Korean Red Ginseng store at SM North EDSA Annex, Upper Ground Floor Level, near Clucky's.
For more information on Cheong Kwan Jang and its red ginseng products, please visit http://ckj.com.ph/.