There's something about online shopping that people will always find irresistible–the accessible imported products. From European drugstore brands to designer labels, e-commerce websites offer a dizzying number of products that makes it difficult for both frugal shoppers and self-confessed shopaholics to resist!
Case in point, BeautyMNL, Taste Central and DealGrocer's charming little makeup sister.
Click on the above picture to view details about the #selfieMNL contest.
The Online Beauty Experience
BeautyMNL has the clean UI, which includes the standard ecommerce essentials like a search bar and a fuss-free checkout process. Flexible payment options make shopping for the best cosmetics a walk in the park, as well, since guests can just pay via PayPal, credit card, bank deposit or cash-on-delivery.
Guests earn rebates for every online purchase, too.
Quick Beauty SOS
Have a zit to zap or skin to preen ASAP? Ladies residing in Metro Manila have all the luck since they can expect much needed skin care and beauty products delivered within 24 hours of payment confirmation. Also, since stocks are updated every Sunday, guests can expect to find some of the latest makeup products out in the market easily available in store! The fixed delivery rates (PhP 50.00 per cart for Metro Manila, PhP 100.00 for the rest of the PH) doesn't hurt either! I can now surprise my best girl with awesome goodies this Christmas!
Can't wait to (personally use my own stash, and) gift these:
Pixi by Petra Sheer Cheek Gel in Flushed Php890
Love, love, love this beauty must-have! A teensy eensy amount goes a long way, and the gel product is water based and hypoallergenic so it doesn't irritate my sensitive skin. I highly recommend this product for people who easily break out!
Wet n' Wild Megaslicks Balm Stain in Rico Mauve Php299
A cheap yet moisturizing lip stain, this blm stain in Rico Mauve puts a lovely reddish plum color on my pout! I love it, since it adds an attractive berry shade to my otherwise dull lips, and the color is close to my original lip color, only better. Yep, it's my new MLBB!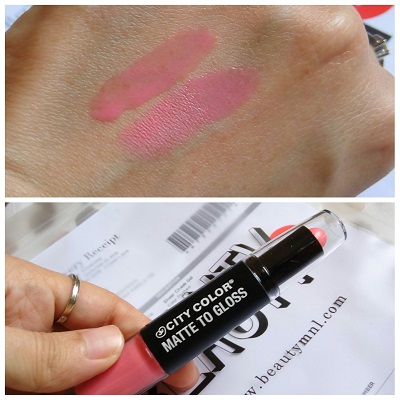 City Color Matte to Gloss in Flamingo Dazzle Php305
Another drugstore cosmetic product, the Matte to Gloss is cheap, and color-rich. Although I am not too happy with the baby pink shade I got, and the matte lippie isn't as hydrating as I had hoped, both the lippie and gloss are non-sticky and sit on the lips for a decent amount of time. I recommend this to besties who need a bold lip color for a formal occasion.
The Verdict
Overall I am happy with my BeautyMNL shopping experience, and I look forward to seeing new products that will pique my fancy. <3
User Interface: 4 out of 5 stars
Product Availability: 4 out of 5 stars
Affordability: 4 out of 5 stars
Overall: 4 out of 5 stars

<3
The #selfieMNL contest deets: Post your #FOTD on Instagram for a chance to snag a BeautyMNL gift card worth Php200 and a Printster polaroid of your gorgeous face! Just add the relevant hashtags, tag people, and post. So easy! The rest of the #selfieMNL contest details can be viewed here.