As far as marketing budgets go, it looks like Warner Bros. has set aside a king's fortune to promote this year's ultimate match up.  The tragic man who lives in the shadows finally meets the invincible man who draws power from the sun. Find out who will win when an unstoppable force meets an immovable object as Warner Bros.–alongside Energizer and local brands Penshoppe, Blue, Silverworks and Filbars–brings "Batman v Superman: Dawn of Justice" to superhero fans at SM malls.
Check out the promotional area at The Block!
This year's epic tale of truth and justice is directed by Zack Snyder ("Man of Steel", "Watchmen", "300″) and stars Amy Adams ("American Hustle", "Big Eyes", "Enchanted") as Lois Lane, Ben Affleck ("Gone Girl", "Argo", "Good Will Hunting") as Bruce Wayne / Batman, Gal Gadot ("Furious 7″) as Diana Prince / Wonder Woman, Henry Cavill ("Man of Steel") as Clark Kent / Superman, and Jesse Eisenberg ("The Social Network") as Lex Luthor.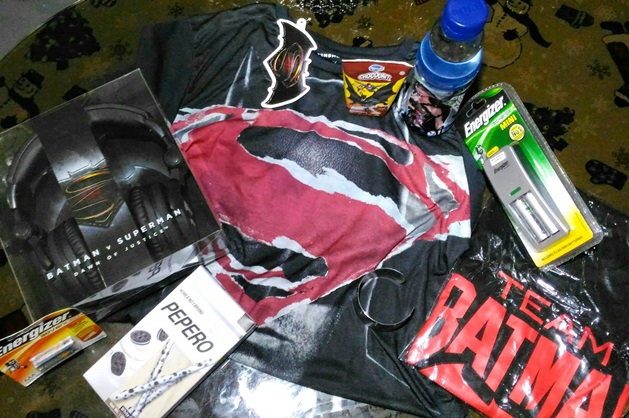 Team Affleck or Cavill? These sponsors know whose side they are on.
Touted as the biggest superhero blockbuster movie of 2016, "Batman v Superman: Dawn of Justice" shares the story of Gotham City's formidable vigilante and Metropolis' esteemed, modern-day hero. Fearing a city's reverence could be undeserved, Batman takes on the admired Superman while a new threat looms ahead. As the mad billionaire Lex Luthor unleashes Doomsday, the citizens of Metropolis are left wondering who can protect them from the monster. Faced with this adversity, Wonder Woman steps in and joins the caped duo to form an unlikely trinity of justice.
 Filbars is even launching Batman v Superman Cosbaby collectibles on March 26!
Catch Batman, Superman, Wonder Woman, and a host of other DC heroes on March 26!